JULY 2016

Elena Krawzow - Athlete of the Month July 2016
LATEST TRIUMPHS:
The German swimmer shined in the women's 100m breaststroke SB13 in Berlin.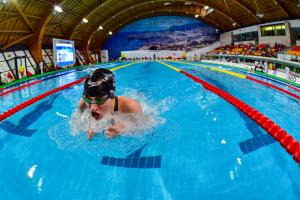 July 2016

'Athlete of the Month'
German swimmer Elena Krawzow has received the Allianz Athlete of the Month honour for June in recognition of her world record-breaking performance in the women's 100m breaststroke SB13.
The world champion impressed in her home pool at the Internationale Deutsche Meisterschaften in Berlin, with a new world record time of 1:16.23.
In the public poll at paralympic.org, Krawzow took 61 per cent of the votes.
Argentina's Roland Garros champion Gustavo Fernandez received 28 per cent. Italy's archer Eleonora Sarti secured 6 per cent, followed by USA's wheelchair rugby player Chuck Aoki (4 per cent) and Great Britain's track athlete Georgina Hermitage (1 per cent).
The 2016 winners so far are:
·January – Abdullah Sultan Alaryani, United Arab Emirates, shooting
·February – Andrey Smirnov, Russia, wheelchair curling
·March – Stephen McGuire, Great Britain, boccia
·April – Carlos Serrano, Colombia, swimming
.May – Shelby Watson, Great Britain, athletics
.June – Elena Krawzow, Germany, swimming