JUNE 2010

Padraic Moran - Athlete of the Month June 2010
20 January 1985 Bray, Ireland
LATEST TRIUMPHS:

Gold medal at the 2010 Boccia World Championships in Lisbon, Portugal

5th at the Beijing 2008 Paralympic Games in China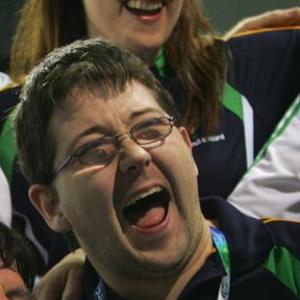 June 2010

'Athlete of the Month'
Irish Boccia player Padraic Moran just won a gold medal at the 2010 CPISRA Boccia World Championships in Lisbon, Portugal.
The 26 years-old athlete from Dublin was diagnosed with Cerebral Palsy at the age of 13 months. Padraic is into Boccia for almost his whole life. He was introduced to the Paralympic Sport at the age of eight by Brenda Green, the coach of the Irish Boccia National Team. It was also Brenda, who introduced him to the Paralympic Council of Ireland, where Padraic is still involved as a member of the Athletes Commission.
Beside his sport, Padraic has several jobs in radio broadcasting. He works as a sports reporter, radio DJ, as a production assistant and a movie reviewer for several radio stations. After his active career, Padraic wants to extend his work in the broadcasting media, but also stay connected to Boccia as an international referee.