APRIL 2014

Ali Jawad - Athlete of the Month April 2014
12 January 1989 Great Britain
LATEST TRIUMPHS:

2018 European Open Championships – Gold: men's up to 54kg

2018 Commonwealth Games - Bronze: men's lightweight

Rio 2016 Paralympic Games - Silver: men's up to 59kg

2015 IPC Powerlifting Americas Open Championships – Gold: men's up to 59kg

2014 IPC Powerlifting World Championships – Gold: men's up to 59kg
Find out about the full career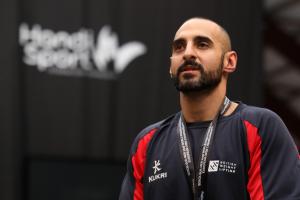 April 2014

'Athlete of the Month'
"Winning gold means a lot more to me than the world record. A world record can always be beaten, but I will always be a world champion. The world record was a bonus."
Great Britain's Ali Jawad has been voted by the public as the International Paralympic Committee's (IPC) Athlete of the Month for April following his world-record and gold-medal winning performance at the 2014 IPC Powerlifting World Championships in Dubai, UAE.
Jawad, a 25-year-old Leeds native, received nearly 40 per cent of the public's vote on Paralympic.org after his impressive lift of 190kg in the men's -59kg category at the World Championships.
After falling behind to Iran's Hamzeh Mohammadi after the first round of lifts, Jawad struck back with his world-record lift in the second round to clinch the gold.
"Winning gold at the World Championships was the highlight of my career," Jawad told Paralympic.org. "It is really a dream come true. I've had so many lows in my career with suffering with Crohn's disease and the disappointment of London 2012, but I always had faith that if I kept working hard, I would have a good chance.
"Winning gold means a lot more to me than the world record. A world record can always be beaten, but I will always be a world champion. The world record was a bonus."
Jawad has received a tremendous amount of support from friends, family and fans immediately after his gold-medal performance.
"I had so many messages, Facebook messages and tweets that I can't remember who I texted first," he said. "It was such a surreal moment for me. However, the thing I remember most was my mum leaving me a voicemail in tears, saying how proud she was of me and after everything that's happened in my career."
Taking little time to relax, Jawad will now compete in British Weightlifting's Championships on Sunday (11 May), which serves as his last qualifier for July's Commonwealth Games.
"I didn't want any time off after the Worlds, as a lot of the coaches from other countries came up to me and said I'm a 200kg bench presser," Jawad said.
"With that in mind, I am now aiming for it at the Commonwealth Games in Glasgow. It will be great being a part of Team England and be in a multi-sport environment."
Other nominees for April's IPC Athlete of the Month included: British cyclist Sarah Storey, American wheelchair racer Tatyana McFadden, Egyptian powerlifter Sherif Othman and Norwegian swimmer Ingrid Thunem.
Nominations for IPC Athlete of the Month are compiled from submissions by National Paralympic Committees (NPCs) and International Federations (IFs).