SEPTEMBER 2016

Evelyn de Oliveira - Athlete of the Month September 2016
17 August 1987 Suzano, Brazil
LATEST TRIUMPHS:

Rio 2016 Paralympics - Gold: mixed pairs BC3
The Brazilians upset the resounding favourites South Korea for gold at Rio 2016.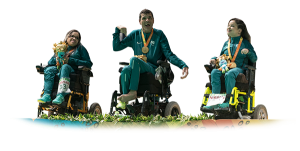 September 2016

'Athlete of the Month'
Brazil's BC3 boccia team has been voted by the public as the Allianz Best Team of the Rio 2016 Paralympic Games.
Comprised of Evelyn de Oliveira, Antonio Leme and Evani Soares da Silva, the team beat the overwhelming favourites and world No. 1 South Korea last month. Brazil lost to South Korea in the early rounds but came back to dominate 5-2 in the finals.
Brazil received 55 per cent of the public vote. The Australian wheelchair rugby team (16 per cent) and the US women's sitting volleyball team (15 per cent) were jockeying for second place in the polls. Brazil's football 5-a-side, the Turkish women's goalball and the Chinese women's 4x100m relay T11-13 teams were also nominated.
In lieu of the IPC Athlete of the Month award for September, the honour is being separated into three different categories – Best Male Athlete, Best Female Athlete and Best Team – based on results at Rio 2016.
The 2016 winners so far are:
January – Abdullah Sultan Alaryani, United Arab Emirates, shooting
February – Andrey Smirnov, Russia, wheelchair curling
March – Stephen McGuire, Great Britain, boccia
April – Carlos Serrano, Colombia, swimming
May – Shelby Watson, Great Britain, athletics
June – Elena Krawzow, Germany, swimming
July – Richard Whitehead, Great Britain, athletics
August – Ekrem Gundogdu, Turkey, goalball
September (Best Male) – Siamand Rahman, Iran, powerlifting
September (Best Female) – Sareh Javanmardidodmani, Iran, shooting