JULY 2014

Markus Rehm - Athlete of the Month July 2014
22 August 1988 Goppingen, Germany
LATEST TRIUMPHS:

London 2017 World Para Athletics Championships – gold: long jump T44 and 4x100m T42-47

Rio 2016 - gold: Long jump T44 and 4x100m relay T42-47

Grosseto 2016 European Championships - gold: Long jump T44 and 4 x 100m relay T42-47

Doha 2015 World Championships - gold: Long jump T44 and 4 x 100m relay T42-47

Lyon 2013 World Championships - gold: Long jump T44
Find out about the full career
Rehm stunned para-sport as he drastically improved on his own long jump world record to win gold at the German able-bodied Nationals.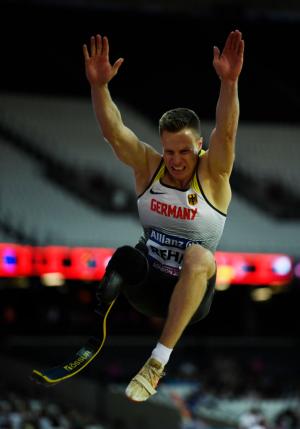 July 2014

'Athlete of the Month'
Germany's Markus Rehm has been named July's Allianz Athlete of the Month after his incredible performance in the long jump at the German able-bodied National Championships, where he set an unofficial world record.
Rehm absolutely obliterated his own world record with a jump of staggering proportions, leaping 8.24m to claim gold.
The jump was a huge improvement on his previous world record of 7.95m which he achieved on his way to gold at the 2013 IPC Athletics World Championships in Lyon, France.
In an incredible month of para-sport, Rehm narrowly edged out his opponents on the poll run on www.paralympic.org by receiving 33.66 per cent of the vote.
After taking up the sport of athletics at the age of 20, Rehm first introduced himself to the world in 2011 by winning gold in the long jump at the IPC Athletics World Championships in Christchurch, New Zealand.
In 2012, he then claimed the gold medal at the London 2012 Paralympic Games.
And in 2013, he once again exerted his dominance in the long jump with that record breaking jump in Lyon.
He beat five other athletes to win the Allianz Athlete of the Month, including Brazil's Leomon Silva who finished second with 32.06 per cent of the vote.
Silva recently guided his country to gold at the 2014 IBSA Goalball World Championships.
Third place went to Australia's Shaun Norris (19.13 per cent) after he helped his side win the 2014 World Wheelchair Basketball Championships in Incheon, South Korea.
Fourth went to Australia's Maddison Elliott after her double-gold at the Commonwealth Games in Glasgow, Great Britain.
Sweden's Jonas Jacobsson, who won his 18th and 19th world titles at the IPC Shooting World Championships in Suhl, Germany, came fifth.
And in sixth was Great Britain's Sophie Thornhill who, aged just 18, won double gold at the Glasgow 2014 Commonwealth Games.