MAY 2018

Sareh Javanmardi - Athlete of the Month May 2018
5 December 1984 Karaj, Iran
LATEST TRIUMPHS:

2018 Asian Para Games - Gold: P2 (10m air pistol SH1) and P4 (mixed 50m pistol SH1)

2018 World Shooting Para Sport Championships - Gold: P2 (10m air pistol SH1) and P4 (mixed 50m pistol SH1)

Rio 2016 Paralympic Games - Gold: P2 (10m air pistol SH1) and P4 (mixed 50m pistol SH1)

2014 IPC Shooting World Championships – Gold: P2 (10m air pistol SH1)

2014 Incheon Asian Para Games - Gold: P4 (mixed 50m pistol SH1); P2 (women's 10m air pistol SH1)
Find out about the full career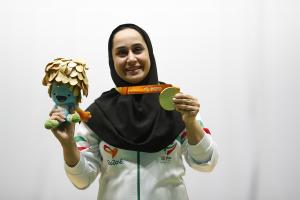 May 2018

'Athlete of the Month'
Iran's Sareh Javanmardi has been voted the Allianz Athlete of the Month for May after her outstanding performance at the 2018 World Shooting Para Sport Championships.
The double Paralympic champion added two world titles to her collection at the Worlds in Cheongju, South Korea. She overcame a penalty deduction to win the P2 (women's 10m air pistol SH1), and beat an otherwise all-male field to take gold in the P4 (mixed 50m pistol SH1).
The voting was tight between Javanmardi (41 per cent) and Ukrainian powerlifter Mariana Shevchuk (38 per cent). Belgian wheelchair racer Peter Genyn came in third with 14 per cent of the public votes. Brazilian equestrian rider Rodolpho Riskalla and Canadian judoka Priscilla Gagne were also nominated.