JULY 2010

China women's sitting volleyball - Athlete of the Month July 2010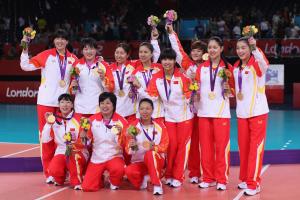 July 2010

'Athlete of the Month'
The Chinese Women's National Team won the gold medal at the WOVD World Championships Sitting Volleyball in Edmond, USA. This is yet another edition to the very successful history of the Chinese Team, after becoming Paralympic Champion at the ATHENS 2004 Paralympic Games, as well as the Beijing 2008 Paralympic Games.
Striving to win the gold medal in an exciting final against the US Team, they also accomplished to qualify for the London 2012 Paralympic Games, together with the US Team and the 3rd placed Ukrainian Team. Chinese Player Sheng Yu Hong (back row, 2nd on the left) was announced Most Valuable Player of the tournament, leading the competiton as Best Blocker, Best Spiker and Most Competitive Player.
Sitting Volleyball first appeared as a Paralympic Sport at the Arnhem 1980 Paralympic Games and rapidly developed to be one of the audiences favorite sports. Since it's introduction by the Dutch Sports Committee in 1953, Sitting Volleyball became one of the biggest team sports practised by disabled people all over the world.