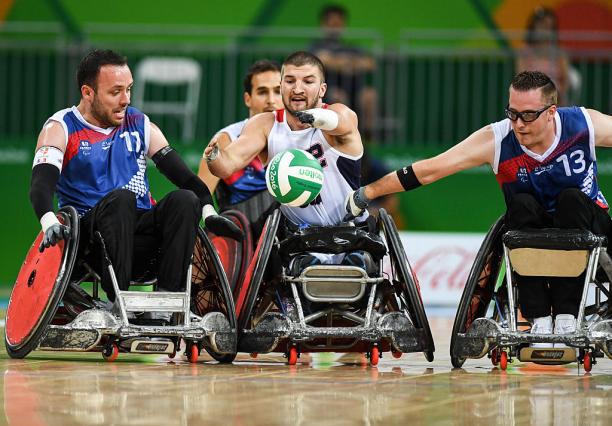 Wheelchair rugby
Wheelchair rugby was developed in Canada in the 1970's by athletes with quadriplegia, and after being presented as a demonstration sport at the Atlanta 1996 Paralympic Games, it made its debut as a medal sport at the Sydney 2000 Paralympic Games.
Wheelchair rugby is a mixed-team sport for male and female athletes. Originating from Winnipeg, Canada, the sport was created by athletes with an impairment and combines elements of rugby, basketball and handball.
Wheelchair rugby players compete in manual wheelchairs specifically designed for the sport. Players must meet minimum disability criteria and be classifiable under the sport classification rules.
Wheelchair rugby is now an established Paralympic sport, with 28 countries having competed in international competitions and listed on the world ranking list, while more than 10 others are developing national programmes.
The International Wheelchair Rugby Federation (IWRF) is the global governing body of the sport.
Classification in wheelchair rugby
Watch Paralympic Sports A-Z: Wheelchair Rugby video
Wheelchair Rugby Federation (IWRF)

Type of data

Info data

©
Address
Suite 349 - 5158 48th Avenue, Delta, BC V4K 5B6, Canada
Phone
+1 778 999 3445
Mail

info@iwrf.com

Website

http://www.iwrf.com/

Main Contact
Richard Allcroft