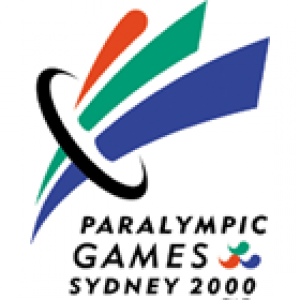 Australia
18 - 29 October 2000
New sports: 1 - Wheelchair Rugby
Countries: 123
Athletes: 3,879
World Records: More than 300
Paralympic Games Records: More than 300
Medal events: 550
Sports: 19
Spectators: 1.2 million
Cumulated TV audience: 300 million
Volunteers: 13,000
Top 5 Medals Table

Top 5 Medals Table

| Pos. | Countries | Gold medals amount | Silver medals amount | Bronze medals amount |
| --- | --- | --- | --- | --- |
| 1 | AUS | 63 | 39 | 47 |
| 2 | GBR | 41 | 43 | 47 |
| 3 | CAN | 38 | 33 | 25 |
| 4 | ESP | 38 | 30 | 38 |
| 5 | USA | 36 | 39 | 34 |
Read more...

about Results following the link
Mascot Paralympic Games Sydney 2000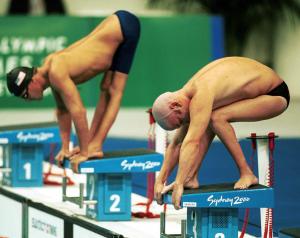 Paralympics 2000, Sydney, Australia, 24 October 2000. Tadhg Slattery in the 100m Breaststroke Photo Credit:© Duif du Toit/Touchline Photo
The Sydney 2000 Paralympic Games were outstanding from an organisational point of view, as a record 1.2 million tickets were sold and about 2,300 media representatives were on site to cover the Games. They also set a new precedent in webcasting through We Media's video streaming service online, as users across 103 countries logged on to catch the webcast.
SPORTS
A total of 18 different sports were featured in Sydney, including 10 new powerlifting classes for women and seven new men's and women's athletics events.
Archery Para athletics Boccia Cycling Equestrian Football 7-a-side Goalball Judo Para powerlifting Sailing Shooting Para sport Para swimming Table tennis Sitting volleyball Wheelchair basketball Wheelchair fencing Wheelchair rugby Wheelchair tennis
TORCH RELAY
The relay event commenced with a lighting ceremony at Parliament House in Canberra on 5 October 2000, involved 920 torchbearers, each of whom carried the flame an average of 500m.
The torch visited each capital city by air, as a Royal Australian Air force Falcon 900 executive jet flew the Paralympic flame around Australia.
OPENING CEREMONY
The Paralympic Games opened on October 18 with a blaze of colour and festivity, as the athletes lined the front rows and field of play in Stadium Australia.
Paralympian Louise Sauvage lit a mini-caldron that in turn lit the big caldron to open the Games.
MEDALS
The host country Australia stole the show with an overall total of 149 medals including 63 of those colored gold. Great Britain kept pace, finishing second in the medal count, followed by Canada, Spain and the USA.
OUTSTANDING PERFORMANCES
British wheelchair athlete Tanni Grey-Thompson crowned her distinguished career by winning four gold medals in the 100m, 200m, 400m and 800m races.
Jason Wening, a double below-the-knee amputee swimmer from the U.S., won his third consecutive gold medal in the 400m Freestyle, breaking his own world record in the process. He had not been beaten in the 400m in his category since 1991, when he first broke the world record.
In wheelchair rugby's Paralympic Games debut, the USA edged Australia, 32-21, in a classic gold-medal final.
Jianxin Bian of China and Fatma Omar of Egypt took the first two gold medals in the Paralympic Games debut of women's powerlifting.
ATTENDANCE AND COVERAGE
During Games time, the Paralympic Village was home to 6,943 people, including 3,881 athletes, 2,315 team officials and 804 technical officials.
Nearly 1.2 million tickets were sold for the Games, and the public was able to watch more than 100 hours of competition through We Media's video streaming service online. Users across 103 countries logged on to catch the webcast, and the official Games website attracted an estimated 300 million hits during Games time.
CLOSING CEREMONY
The Closing Ceremony, held on 29 October, featured live music and showcased the achievements of all of the Paralympic athletes.