SEPTEMBER 2011

Mark Rohan - Athlete of the Month September 2011
27 July 1980 Ireland
LATEST TRIUMPHS:

Two gold medals at the 2011 UCI Para-Cycling Road World Championships
Rohan received 74% of the public's vote on IPC's Facebook poll to beat rower Tom Aggar (Great Britain).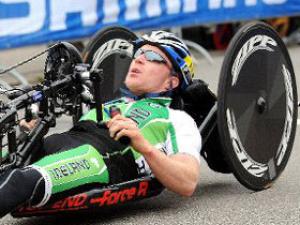 September 2011

'Athlete of the Month'
Related News

Related Press Releases
"It's pretty amazing, I think, for such a small country to have two world champions."
Ireland's Mark Rohan has been voted the International Paralympic Committee's (IPC) Athlete of the Month for September after winning gold in both the H1 handcycling Road Race and Time Trial at the UCI Para-Cycling Road World Championships in Roskilde, Denmark.
Rohan received a whopping 74 percent of the vote on the IPC's Facebook poll to beat out Great Britain's Tom Aggar (Rowing), USA's Allison Jones (Para-Cycling), Germany's women's Wheelchair Basketball team and Great Britain's men's Wheelchair Basketball team.
In just his third year in international competition, Rohan defended his world title in the Road Race, posting a time of 1:31.24, while he raced to a personal best and first-place finish of 31:03.50 in the Time Trial.
"I was absolutely delighted to retain the Road world title and to win the Time Trial," Rohan said of his performance. "But it also meant that I had gained qualification for the London 2012 Paralympics, so it was a bonus. It was amazing."
Rohan was the highlight at the Championships for an Irish delegation that also saw Colin Lynch claim gold in the C3 Time Trial and the female tandem of Catherine Walsh and Fran Meehan win bronze in their Time Trial.
"It's pretty amazing, I think, for such a small country to have two world champions," Rohan said.
Rohan has only been involved in Para-Cycling himself since 2007, when he purchased a handcycle to cross-train as a Wheelchair Basketball player.
But in no time, Rohan found himself wanting to switch sports.
"As soon as I got to the bike, I just absolutely fell in love with it," Rohan said. "I love the freedom of it. I live in the country, and I love the fact that you can see the countryside as a cyclist rather than by car."
By 2009, Rohan began taking part in international competitions. In 2010, he slimmed his work week to just three days to focus on his training. And now, in 2011, he has taken an 18-month break from his job to train for the Paralympic Games.
As his next competitive race is not until April, Rohan said he will now focus on strength and conditioning work to pass the cold, Irish winter.
With London 2012 being his first Paralympic Games – and the fact that they are so close to home for him – Rohan's entire life now rotates around the Brands Hatch course in London where he will be eyeing gold.
"It's a once-in-a-lifetime opportunity," Rohan said. "I know that there are five, six, seven guys there that can beat me on any given day. I know that especially with the Paralympics coming around that they will be training as hard as they were last year and the year before."
Rohan is one of 4,200 athletes expected to compete at the London 2012 Paralympic Games.