FEBRUARY 2015

Chris Vos - Athlete of the Month February 2015
25 February 1998 Netherlands
LATEST TRIUMPHS:

PyeongChang 2018 Paralympic Winter Games – Silver: snowboard-cross SB-LL1

2017 World Para Snowboard Championships: Gold - Snowboard-cross, banked slalom

2016-17 IPC Snowboard World Cup: Overall winner - men's SB-LL1; Title winner - banked slalom; Overall second - Snowboard-cross

2015-16 IPC Snowboard World Cup: Overall winner - men's SB-LL1

2015 IPC Snowboard World Championships: Gold - Snowboard-cross, banked slalom
Find out about the full career
At La Molina 2015 17-year-old Vos won two world titles, in the snowboard cross head-to-head and banked slalom.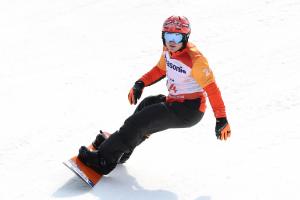 February 2015

'Athlete of the Month'
The Netherlands' Chris Vos has been voted the Allianz Athlete of the Month for February 2015 after an impressive performance at the 2015 IPC Para-Snowboard World Championships.
The 17-year-old did not just celebrate his birthday at the World Championships in La Molina, Spain, he also won two world titles. He topped the podium in the SB-LL1 class in the snowboard cross head-to-head and the banked slalom.
Vos saw off stiff competition in the final from Norway's Kristian Moen to take his first gold medal in the snowboard cross, while he was fastest in all three of his runs in the banked slalom four days later to win his second gold of the Championships.
To win the poll, Vos claimed 33 per cent of the public vote to just edge out Argentina's wheelchair tennis player Gustavo Fernandez with 25 per cent. Fernandez won the first ITF 1 Series singles title of 2015 at the ABN AMRO World Wheelchair Tennis Tournament in Rotterdam, the Netherlands.
Also nominated in February's poll were French rower Perle Bouge, Russian alpine skier Alexey Bugaev, British athlete Aled Davies, and USA's Nordic skier Oksana Masters.
The previous winner from 2015 was:
January – Andrew Soule, USA, Nordic skiing