AUGUST 2010

Daniel Dias - Athlete of the Month August 2010
24 May 1988 Campinas, Brazil
LATEST TRIUMPHS:

Rio 2016 Paralympic Games - Gold: 50m, 100m & 200m freestyle; 50m backstroke; Silver: 100m breaststroke; 4x100m freestyle relay 34 points; mixed 4x50m freestyle relay 20 points; Bronze: 50m butterfly; 4x100m medley relay 34 points

2015 IPC Swimming World Championships - Gold: 50m, 100m and 200m freestyle, 50m backstroke, 50m butterfly, 100m breaststroke, 4 x 50m freestyle relay 20 points; Silver: 4 x 100m freestyle relay 34 points

2013 IPC Swimming World Championships - Gold: 50m, 100m and 200m freestyle, 50m backstroke, 200m individual medley, 4 x 50m freestyle relay 20 points; Silver: 50m butterfly and 4 x 50m freestyle relay 34 points

London 2012 Paralympic Games - Gold: 50m, 100m & 200m freestyle, 50m butterfly, 50m backstroke & 100m breaststroke

2010 IPC Swimming World Championships - Gold: 50m, 100m & 200m freestyle; 50m butterfly, 50m backstroke, 100m breaststroke, 200m individual medley, 5 x50m medley relay; Silver: 4x100m freestyle relay
Find out about the full career
The four-time Paralympic Champion won seven gold medals at the 2010 IPC Paralympic Swimming World Championships in Eindhoven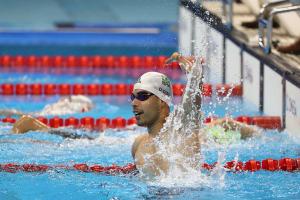 August 2010

'Athlete of the Month'
Daniel Dias, a 22 year-old from Brazil, is one of today's most consistent and successful Paralympic Swimmers. The four-time Paralympic Champion won seven gold medals at the 2010 IPC Paralympic Swimming World Championships in Eindhoven.
Daniel was born in Campinas, a city north of Sao Paulo, with malformed upper and lower limbs. Unlike other athletes, who discover Paralympic Sport at a very young age, Daniel's first contact with Paralympic Swimming was at the age of 16, seeing Clodoaldo Silva at the ATHENS 2004 Paralympic Games. Inspired by the athletes competing in Athens, Daniel started to train for the 2006 IPC Paralympic Swimming World Championships in Durban, where he won three gold medals and two silver medals.
Today, Daniel is a professional Paralympic Athlete, focussing on his sporting career, which he would like to pursue as long as possible. After his active career, he wants to continue working in sport, to promote the Paralympic Movement and encourage more young people with a disability to take up Paralympic Swimming.
Daniel claims that his biggest success was to receive the 2009 Laureus World Sportsperson of the Year with a Disability Award.