DECEMBER 2015

Joachim Gerard - Athlete of the Month December 2015
The Belgian upset No. 1 men's singles player Kunieda in the year-end Masters to land the honour.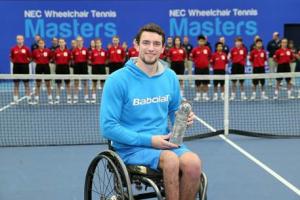 December 2015

'Athlete of the Month'
Wheelchair tennis player Joachim Gerard pulled one of the biggest upsets of 2015. With that, the Belgian has been named the Allianz Athlete of the Month for December, wrapping up the last honour of 2015.
Gerard defeated Japan's No. 1 Shingo Kunieda 2-6 6-2 7-5 in the early rounds of the NEC Wheelchair Tennis Masters, the International Tennis Federation's year-end singles championships event. The victory spoiled Kunieda's 77-matching winnings streak. The two then met in the men's singles finals, where Gerard won 7-5 2-6 6-3.
The 27-year-old picked up 50 per cent of the public votes. Canadian ice sledge hockey player Tyler McGregor came in second with 25 per cent. Russian Nordic skier Stanislav Chokhlaev was third (16 per cent), followed by British swimmer Bethany Firth (seven per cent) and then French sailor Damien Seguin (two per cent).