SEPTEMBER 2010

USA - Athlete of the Month September 2010
USA
LATEST TRIUMPHS:

Gold medal 2010 Wheelchair Rugby World Championships, Canada

Gold medal Beijing 2008 Paralympic Games, China

Gold medal 2006 Wheelchair Rugby World Championships, New Zealand

Bronze medal Athens 2004 Paralympic Games, Greece

Silver medal 2002 Wheelchair Rugby World Championships, Sweden
USA's Wheelchair Rugby team was named Athlete of the Month September 2010 by the IPC.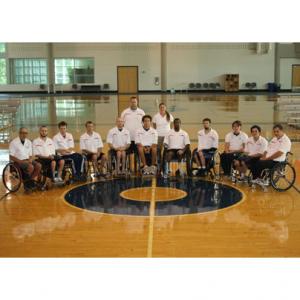 September 2010

'Athlete of the Month'
The USA Wheelchair Rugby Team retained their title as world champions at the 2010 Wheelchair Rugby World Championships in Vancouver, Canada.
In a rematch of the Beijing 2008 Paralympic Games final, the USA once again managed to edge a very strong Australia 57:45.
It was the USA's fourth world title in five World Championships and, as the event acted as a qualifer for the London 2012 Paralympic Games, they are the first to qualify and will definitely start as favourites to retain their title in the British capital.
The number one ranked team in the official International Wheelchair Rugby Federation (IWRF) world rankings has won every major event since the 2006 Wheelchair Rugby World Championships in Christchurch, New Zealand.