MAY 2019

Koji Sugeno - Athlete of the Month May 2019
LATEST TRIUMPHS: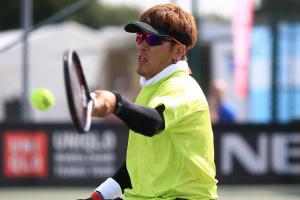 May 2019

'Athlete of the Month'
Japan's wheelchair tennis player Koji Sugeno has been voted the Allianz Athlete of the Month for May after leading his national team to the World Team Cup quad title following a 2-1 victory over hosts Israel in the final.
It was the first time that Japan won the World Team Cup since the quad event was included in 1998, while denying Israel the chance to emerge as champions for a fifth time.
Sugeno received 76 per cent of the public votes. New Zealand's swimmer Sophie Pascoe came in second with nine per cent, while Italian judoka Carolina Costa was not far behind with seven per cent.
Dutch cyclist Jetze Plat and US ice hockey player Declan Farmer were also nominated.