OCTOBER 2015

Beatrice Vio - Athlete of the Month October 2015
4 March 1997
LATEST TRIUMPHS:

Rio 2016 Paralympic Games - Gold: Foil, Bronze: Foil team

2015 World Championships - Gold: Foil

2014 European Championships - Gold: Foil, foil team

2013 IWAS Wheelchair Fencing Grand Prix, Lonato – Gold: Foil category B

2013 IWAS Wheelchair Fencing Grand Prix, Montreal – Gold: Foil category B
The Italian wheelchair fencer drew closer to an undefeated season after the World Cup in Paris.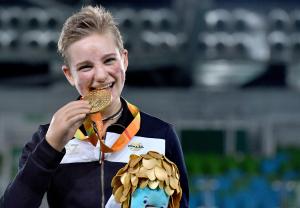 October 2015

'Athlete of the Month'
Italy's Beatrice Vio has been named the Allianz Athlete of the Month for October after winning her seventh straight major event this year at the World Cup in Paris, France.
The 18-year-old won gold in the women's foil category B in October's International Wheelchair and Amputee Sports Federation (IWAS) event. The victory draws her closer to an undefeated season, as Vio has one more World Cup left in December in Sharjah, UAE.
Vio collected 78 per cent of the votes. German long-jumper Markus Rehm came in second in the poll with 16 per cent, followed by the USA's Richard Browne (3 per cent), Cuba's Omara Durand (2 per cent), and the Chinese women's wheelchair basketball team (1 per cent), respectively.
The previous winners from 2015 were:
January – Andrew Soule, USA, Nordic skiing
February – Chris Vos, the Netherlands, snowboard
March – Maksym Nikolenko, Ukraine, table tennis
April – Nigel Murray, Great Britain, boccia
May – Martina Caironi, Italy, athletics
June – Eduard Ramonov, Russia, football 7-a-side
July – Siamand Rahman, Iran, powerlifting
August – Trevor Hirschfield, Canada, wheelchair rugby
September – Moran Samuel, Israel, rowing