Nottwil 2019: Noah Malone makes his way
03.08.2019
US track star makes noise on international stage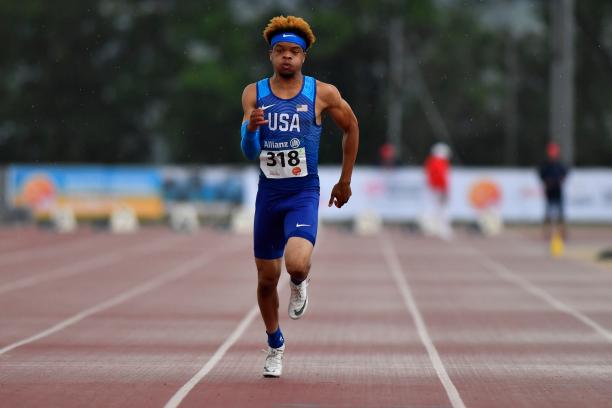 Noah Malone had a memorable Team USA debut by winning the men's 100m T12 at Nottwil 2019
© • Luc Percival
By Amp Media | For World Para Athletics
The USA's Noah Malone was one of a host of emerging young stars to shine on the second day of the World Para Athletics Junior Championships in Nottwil, Switzerland.
Malone has been on the rise nationally. But on Friday he marked his Team USA debut with an international victory in the men's 100m T12 in 10.92, despite swirling wind and rain at the Swiss Paraplegic Centre.
Others to have had a fine day were Malone's teammates Jackson Atwood, who won his second gold ahead of Portugal's Rafael Neto in as many days in the men's 100m T54, and Joel Gomez, who dominated from start to finish in the men's 1,500m T53.
"I had to do a lot of adjusting, a lot of accepting, a lot of transitioning in the classroom, on the track and in life"
South Africa's Puseletso Mabote returned to the track a day after becoming a world-record holder to take silver in the men's 100m T45-T64 in a race won by Jose Martins Da Costa as the Brazilian claimed his second title of the meet.
Kiara Rodriguez of Ecuador won her second gold in as many events in the women's 100m T46 and will aim for her third in the long jump; and the USA's Hannah Dederick also made her second trip to the top of the podium by winning the women's 100m T54.
Malone's meteoric rise
Malone arrived in Nottwil with personal bests of 10.59 and 21.31 in the 100m and 200m respectively.
The 17-year-old only made his Para athletics debut in May 2018, but he has made great progress under coach Andrew Ponsler. Nottwil marks his first trip outside the United States.
"This has been one of my best memories in track and field," Malone said. "I've met so many people, I've learned so many things and just the environment, I love it - so words can't describe it."
Malone's world changed on his first day of eighth grade when the 13-year-old found he could not see what the teacher had written on the board.
He was diagnosed with Leber's hereditary optic neuropathy which leads to a loss of central vision.
"I had to do a lot of adjusting, a lot of accepting, a lot of transitioning in the classroom, on the track and in life," he said. "It was hard but I did get through it. It was just a lesson overall.
"I was a very big basketball person and I even tried out for the basketball team in eighth grade with my vision loss and I made the team but the games were too fast-paced so I had to stop basketball but I still had track."
It was the intervention of a teacher at the Indiana School for the Blind two years ago that made a real difference.
Knowing of his athletic talent, she put him in contact with Cathy Sellers, Team USA's former Paralympic track and field director.
"Para sport has helped my confidence a lot because obviously there is a bunch of visually-impaired people here. I talk to them, I learn from them and it just has helped that I have a platform to still compete competitively.
"I compete with able bodied in high school and I won the state meet for the 200 in Indiana. I love to compete with able bodied and I love to compete in the Paralympic world too. I think the combination of both worlds is just perfect.
"I would love to do both if I had the opportunity and I keep working hard and times keep dropping, I would sure jump at the opportunity to do both. Hopefully when I am a little bit older I can get there, maybe during college. That would be a goal of mine."
Malone comes from a track-loving family. His parents Kyle and LaTasha both ran in college and his 11-year-old sister Zion also competes.
"I am always around them, they are very good with helping me, they know me the best so they have really brought me through it for sure. I couldn't do it alone."
Next up following Nottwil are the Parapan American Games in Lima, Peru, and potentially a trip to the World Para Athletics Championships in Dubai in November.
He will compete against senior athletes at Lima 2019, a prospect he describes with "nervous excitement."
"That's a good way to put it. Every day I've been really hyped and excited to just run because I just love to run. All the experience I am having and continue to have - I learn from them all and I am just excited."
The World Junior Championships takes place until Sunday and can be watched live on World Para Athletics website and Facebook page.
More information, including start lists, results and visitor information, can be found on the event website.