AUGUST 2012

Alex Zanardi - Athlete of the Month August 2012
24 October 1966 Italy
LATEST TRIUMPHS:

2017 Road World Championships - Gold (time trial), Silver (road race)

Rio 2016 Paralympic Games - Gold (time trial, mixed team relay), Silver (road race)

2015 Road World Championships - Gold (road race, time trial)
Former motor racer Alex Zanardi garnered 48 per cent of the vote after a stellar handcycling performance in London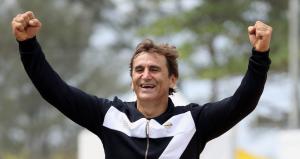 August 2012

'Athlete of the Month'
"It was great to live such an experience at 45 years old."
After winning two gold medals and one silver in handcycling at the London 2012 Paralympic Games, Italy's Alex Zanardi has been voted the International Paralympic Committee's (IPC) Male Athlete of the Month for August and September 2012.
The 45-year-old struck gold in the men's individual H4 time trial and road race at Brands Hatch, 21 years after racing there as an F3000 driver.
A silver with his Italian team-mates in the Mixed H1-4 team relay capped a superb four days, and Zanardi admits he will cherish the memories.
"I worked very hard to get here," he said. "It was great to live such an experience at 45 years old."
Zanardi, who also raced in Formula One, was injured in the American Memorial 500 Cart event in Germany in September 2001 when a 200mph accident saw him lose both his legs.
Great Britain's David Weir came a close second in the IPC's poll with 40 per cent of the vote, and Ireland's double Paralympic champion Jason Smyth garnered 9.5 per cent. Australian swimmer Matt Cowdrey and Brazilian Daniel Dias were also up for the award, alongside Japanese wheelchair tennis player Shingo Kuneida.
Because of the London 2012 Games, the IPC did not have an Athlete of the Month for August or September, but rather will have three award winners for those two months. These will include the Best Male Athlete, Best Female and Best Team.
The IPC removed the Best Male Athlete Poll one day early after noticing some voting irregularities. The IPC used reliable website statistics to determine the winner of the award.