NOVEMBER 2016

Matias Nicolas Pino Lorca - Athlete of the Month November 2016
LATEST TRIUMPHS:
The 19-year-old table tennis player won four gold medals over three tournaments.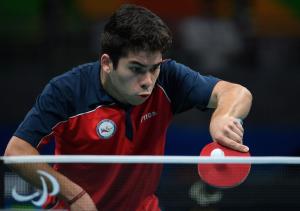 November 2016

'Athlete of the Month'
Chilean teenage table tennis player Matias Nicolas Pino Lorca has received the Allianz Athlete of the Month honour for November after his outstanding performances over three tournaments.
The 19-year-old won five medals (four golds) at the Copa Chile, Copa Tango Junior and Copa Tango XIV. He captured the singles class 6-7 title and team bronze medal at the Copa Chile, dominated his singles class at the junior competition and then took golds in both the singles and team events at the Copa Tango XIV.
Pino received 72 per cent of the public vote. Dutch snowboarder Chris Vos was second with 11 per cent. South Korean dance couple Youngho Lee and Youngseon Park were third (9 per cent), followed by Finnish snowboarder Matti Suur-Hamari (6 per cent) and Italian wheelchair fencer Beatrice Vio (2 per cent).
The 2016 winners so far are:
January – Abdullah Sultan Alaryani, United Arab Emirates, shooting
February – Andrey Smirnov, Russia, wheelchair curling
March – Stephen McGuire, Great Britain, boccia
April – Carlos Serrano, Colombia, swimming
May – Shelby Watson, Great Britain, athletics
June – Elena Krawzow, Germany, swimming
July – Richard Whitehead, Great Britain, athletics
August – Ekrem Gundogdu, Turkey, goalball
September (Best Male) – Siamand Rahman, Iran, powerlifting
September (Best Female) – Sareh Javanmardidodmani, Iran, shooting
September (Best Team) – Brazil, boccia BC3 team
October – Emanuele Lambertini, Italy, wheelchair fencing
November – Matias Nicolas Pino Lorca, Chile, table tennis