NOVEMBER 2011

Colombia Men - Athlete of the Month November 2011
Colombia
LATEST TRIUMPHS:

Silver medal at the Guadalajara 2011 Parapan American Games
Colombia received 58 per cent of the vote on the IPC's Facebook poll beating Brazil's Daniel Dias.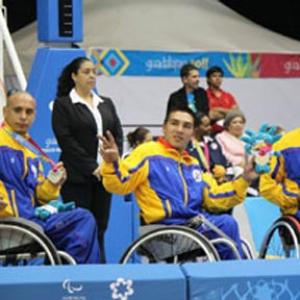 November 2011

'Athlete of the Month'
Colombia qualified for the first time for the Paralympic Games in Wheelchair Basketball.
Colombia's men's Wheelchair Basketball team won the International Paralympic Committee's (IPC) Athlete of the Month award for November after finishing with an astonishing silver medal at the Parapan American Games and qualifying for its first-ever Paralympic Games.
The squad received 58 percent of the vote on the IPC's Facebook poll, beating Brazil's Daniel Dias (Swimming), USA's Chelsea McClammer (Athletics), Argentina's Gustavo Fernandez (Wheelchair Tennis), Mexico's Luis Andrade Guillen (Swimming) and Brazil's men's Sitting Volleyball team.
After winning just one of its three preliminary round matches at the Parapans in Guadalajara, Mexico, last month, Colombia barely escaped Argentina with a 1-point win in the quarter-finals thanks to 22 points by Rodney Hawkins and 18 points by Nelson Jaime Sanz.
Then came the big upset.
In its semi-final contest, Colombia finished regulation tied with Canada, but then outscored its favoured opponents 12-1 in the overtime period to cruise to a shocking 69-58 victory and earn itself a place in the finals.
Hawkins dominated once again, bucketing 24 points against the Canadians and grabbing 23 rebounds.
Colombia, coached by John Asprilla, then fell to USA in the gold-medal contest, 60-40, as Sanz was the only one to score in double figures with 15 points.
Nevertheless, the players' dreams came true, as they qualified for London 2012.
As an entire delegation at the Parapans, Colombia finished sixth in the medals table with 18 gold, 23 silver and 13 bronze medals.
At the Beijing 2008 Paralympic Games, Colombia came away with a silver in Athletics and a bronze in Swimming, and its Wheelchair Basketball team will now look to add to that medal haul in London.