OCTOBER 2016

Emanuele Lambertini - Athlete of the Month October 2016
Italy
LATEST TRIUMPHS:

Rio 2016 Paralympic Games – 8th place: men's foil category A

2016 U17 World Championships – Golds: foil mixed, epee mixed

2016 U23 World Championships – Silver: foil mixed

2016 IWAS Wheelchair Fencing World Cup, Pisa, Italy – Bronze, men's foil category A
The 17-year-old wheelchair fencer won two gold medals at the junior Worlds.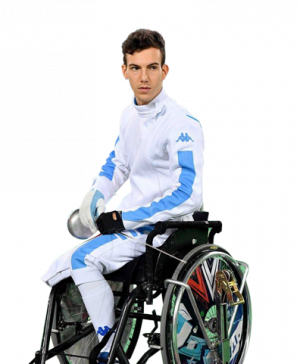 October 2016

'Athlete of the Month'
Italian teenage wheelchair fencer Emanuele Lambertini has received the Allianz Athlete of the Month honour for October after his outstanding performance at the junior World Championships.
The 17-year-old won four medals (two golds) at the International Wheelchair and Amputee Sports Federation (IWAS) U17 & U23 Wheelchair Fencing World Championships. He took the under-17 mixed foil and mixed epee events, coming after he reached the quarterfinals in the men's foil category A on his Paralympic debut at Rio 2016.
Lambertini received 62 per cent of the public vote. Great Britain's goalball player Laura Perry was second with 31 per cent. Slovakian wheelchair dancing couple Helena Kasicka and Peter Vidasic were third (5 per cent).
Wheelchair racers Tatyana McFadden of the USA and Switzerland's Marcel Hug were also nominated.
The 2016 winners are:
January – Abdullah Sultan Alaryani, United Arab Emirates, shooting
February – Andrey Smirnov, Russia, wheelchair curling
March – Stephen McGuire, Great Britain, boccia
April – Carlos Serrano, Colombia, swimming
May – Shelby Watson, Great Britain, athletics
June – Elena Krawzow, Germany, swimming
July – Richard Whitehead, Great Britain, athletics
August – Ekrem Gundogdu, Turkey, goalball
September (Best Male) – Siamand Rahman, Iran, powerlifting
September (Best Female) – Sareh Javanmardidodmani, Iran, shooting
September (Best Team) – Brazil, boccia BC3 team
October – Emanuele Lambertini, Italy, wheelchair fencing