MARCH 2013

Frank Rennhack - Athlete of the Month March 2013
12 October 1989 Radebeul
Germany's Frank Rennhack received 40 per cent of the public's vote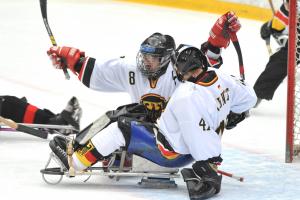 March 2013

'Athlete of the Month'
Related Images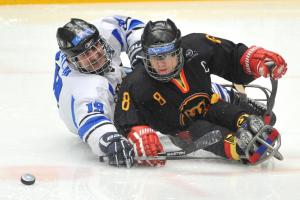 © • Moto Yoshimura
"I'm trying to be the heart of our team."
Following the public's vote, Germany's ice sledge hockey captain Frank Rennhack was named the IPC's Athlete of the Month for March after leading his team to gold at the 2013 IPC Ice Sledge Hockey World Championships B-Pool in Nagano, Japan.
Rennhack received 40 per cent of the public's vote, just beating swimmer Mary Fisher of New Zealand, who finished with 37 per cent of the vote.
At the Championships, Germany's team captain anchored a talented top line that also included veterans Bas Disveld and Bernhard Hering, and he had a team-high six goals, including two in the final game against Japan.
"I'm trying to be the heart of our team, and I think in Japan it went like I wanted it to," Rennhack said following the Championships.
"I think Japan was actually the favourite to win because they had the backing of the fans and it was on their home ice," Rennhack said. "It was so amazing to play against the host country in the final, and then to win the game was like a dream."
The top-three finishers in Nagano earned their places at the Paralympic Qualification Tournament, at which they will meet the bottom three finishers from this week's World Championships A-Pool to challenge them for a place at Sochi 2014.
Rennhack said his entire team is now focused on qualifying for the next Paralympic Winter Games and have taken their skill sets to another level.
Along with Rennhack, German nordic skier Andrea Eskau, Japanese ice sledge hockey player Kazuhiro Takahashi, Argentinian wheelchair tennis player Gustavo Fernandez and Russian alpine skier Alexandra Frantseva were also up for the monthly honour.
IPC Athlete of the Month nominations are compiled from submissions by National Paralympic Committees and International Federations.