MARCH 2017

Alexander Cataldo - Athlete of the Month March 2017
LATEST TRIUMPHS:
Popular vote chose the Chilean wheelchair tennis player as the best athlete in the Americas in February 2017.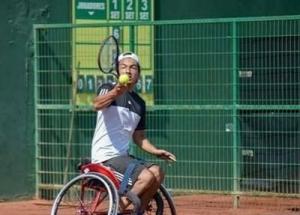 March 2017

'Athlete of the Month'
USA's Oksana Masters, Canada's Mark Arendz and Chile's Alexander Cataldo are the three shortlisted Para athletes for the Americas 'Athlete of the Month' poll for February 2017.
Chilean wheelchair tennis player Alexander Cataldo was selected by the public as Americas 'Athlete of the Month' after winning the Miguel Zuniga Memorial Open in Buenos Aires, Argentina, and reaching the No. 71 in the men's rankings.
Cataldo is the second best ranked player from his country. In the public polls, he finished first with 67.51 per cent of the votes, followed by USA's Oksana Masters (31.16 per cent) and Canada's Mark Arendz (1.32 per cent).
The nominations are compiled from submissions by National Paralympic Committees (NPCs) from the continent.
The 2017 Allianz Athlete of the Month winners so far are:
•January – Gustavo Fernandez, Argentina, wheelchair tennis
•February – Alexander Cataldo, Chile, wheelchair tennis