FEBRUARY 2019

Yujie Li - Athlete of the Month February 2019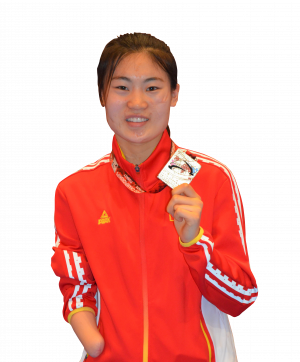 February 2019

'Athlete of the Month'
China's Yujie Li has been voted the Allianz Athlete of the Month for February after her strong victory at the World Para Taekwondo Championships in Antalya, Turkey.
The Worlds debutant won a surprise gold in the women's up to 58 kg K44 division. In her first international competition, Li upset home favourite Gamze Gurdal and Mexico's Jessica Garcia Quijano. Those victories advanced her to face Serbia's Marija Micev, also appearing in her first international final, with Li taking home the top honour.
Li received 51 per cent of the public vote. French Nordic skier Benjamin Daviet was second in the polls with 28 per cent. Norwegian Nordic skier Vilde Nilsen came in third (11 per cent), followed by Australian long jumper Vanessa Low and Ukrainian powerlifter Mariana Shevchuk.