APRIL 2017

Jean Claude Niringiyimana - Athlete of the Month April 2017
LATEST TRIUMPHS: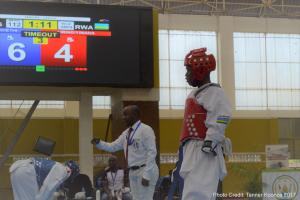 April 2017

'Athlete of the Month'
Rwanda's taekwondo athlete Jean Claude Niringiyimana has been voted as the Allianz Athlete of the Month for April after his performance at the African Para Taekwondo Open in Kigali, Rwanda.
At his first ever international competition, Niringiyimana took the silver medal in the men's under 61kg K44. He overcame Lesotho's Phoofolo Mokhethi in a tight 7-6 duel on his way to the finals, only falling to Spain's No. 3 ranked Aythami Santana. Niringiyimana entered May's world ranking tied for 13th.