AUGUST 2014

Ievgenii Bogodaiko - Athlete of the Month August 2014
27 April 1994 Ukraine
LATEST TRIUMPHS:

Rio 2016 Paralympic Games - Gold: 100m breaststroke, 200m individual medley and 100m backstroke; Silver: 50m butterfly, 50m freestyle and 4 x 100m medley relay 34 points; Bronze: 100m freestyle and 4 x 50m freestyle and medley relay 20 points

2015 IPC Swimming World Championships - Gold: 100m breaststroke, 200m individual medley; Silver: 50m butterfly, 50m freestyle; Bronze: 4 x 100m medley relay 34 points

2016 IPC Swimming European Open Championships - Gold: 50m freestyle, 100m breaststroke, 50m butterfly, 100m individual medley; Silver: 4x50m medley relay 34 points; Bronze: 100m backstroke and 2014 IPC Swimming European Championships - Gold: 50m and 100m freestyle, 200m individual medley, 50m butterfly, 100m breaststroke, 4 x 50m freestyle and medley relay 20 points; Silver: 100m backstroke and 4 x 100m freestyle medley relay 20 points

2013 IPC Swimming World Championships - Gold: 100m breaststroke; 50m butterfly & 4x50m medley relay; Silver: 4x50m freestyle relay 20 points; Bronze: 50m freestyle & 100m backstroke

London 2012 Paralympic Games - Gold: 200m individual medley & 100m breaststroke; Silver: 100m backstroke and 50m butterfly
Find out about the full career
The Ukrainian received nearly 35% of the vote after claiming an incredible seven gold medals at the 2014 IPC Swimming European Championships.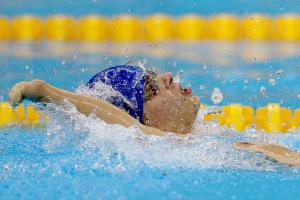 August 2014

'Athlete of the Month'
Ukraine's Yevheniy Bohodayko has been named the Allianz Athlete of the Month Best Male for August 2014.
Bohodayko received nearly 35 per cent of the vote after he became the most decorated athlete at the 2014 IPC Swimming European Championships in Eindhoven, the Netherlands, winning seven gold and two silver medals as Ukraine finished top of the medals table.
In what was a bumper month for para-sport, the 21-year-old excelled ahead of Ireland's Eoghan Clifford, who came second in the voting after securing two rainbow jerseys at the 2014 UCI Para-cycling Road World Championships.
Third place went to Canada's Zak Madell, who claimed the Most Valuable Player (MVP) award at the 2014 IWRF Wheelchair Rugby World Championships in Odense, Denmark, despite his side losing to Australia in the final.
Also nominated were Great Britain's Lee Pearson, who won two golds at the FEI World Equestrian Games, Australia's Daniel Fitzgibbon, who secured his first ever world title at the 2014 IFDS Combined Sailing World Championships, and Finland's Henry Manni, who won four golds at the 2014 IPC Athletics European Championships in Swansea, Great Britain.
It has been a monumental rise to the top for Bohodayko in recent years. After taking up the sport in 2004 on the recommendation of the director of the local sports rehabilitation school to his native town of Poltava, Ukraine, the youngster quickly discovered his natural ability.
He first announced his presence on the international scene at just 16 years old, by winning an impressive six medals (one gold, three silver, two bronze) at the 2010 IPC Swimming World Championships in Eindhoven, the Netherlands.
At the 2011 IPC Swimming European Championships in Berlin, Germany, he won eight gold and two silver medals, as well as breaking one world and two European records.
In 2012, despite suffering two major injury set-backs, the S7 swimmer still managed to claim two gold and two silver medals at the London 2012 Paralympic Games.
He then won seven medals at the 2013 IPC Swimming World Championships in Montreal, Canada, including three golds.
And 2014 has undoubtedly been one of his most successful years in the pool, with his incredible medal haul in Eindhoven bettering that of his compatriot Dmytro Vynohradets (eight) and Great Britain's Stephanie Slater (seven).