DECEMBER 2014

Daniel Dias - Athlete of the Month December 2014
24 May 1988 Campinas, Brazil
LATEST TRIUMPHS:

Rio 2016 Paralympic Games - Gold: 50m, 100m & 200m freestyle; 50m backstroke; Silver: 100m breaststroke; 4x100m freestyle relay 34 points; mixed 4x50m freestyle relay 20 points; Bronze: 50m butterfly; 4x100m medley relay 34 points

2015 IPC Swimming World Championships - Gold: 50m, 100m and 200m freestyle, 50m backstroke, 50m butterfly, 100m breaststroke, 4 x 50m freestyle relay 20 points; Silver: 4 x 100m freestyle relay 34 points

2013 IPC Swimming World Championships - Gold: 50m, 100m and 200m freestyle, 50m backstroke, 200m individual medley, 4 x 50m freestyle relay 20 points; Silver: 50m butterfly and 4 x 50m freestyle relay 34 points

London 2012 Paralympic Games - Gold: 50m, 100m & 200m freestyle, 50m butterfly, 50m backstroke & 100m breaststroke

2010 IPC Swimming World Championships - Gold: 50m, 100m & 200m freestyle; 50m butterfly, 50m backstroke, 100m breaststroke, 200m individual medley, 5 x50m medley relay; Silver: 4x100m freestyle relay
Find out about the full career
Dias smashed a two and half year old world record in December to poll 40 per cent of the public vote.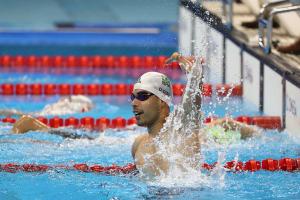 December 2014

'Athlete of the Month'
Two-time Paralympian Daniel Dias of Brazil has been voted the Allianz Athlete of the Month for December 2014 after breaking the 200m breaststroke SB4 world record at the Spring CanAms in Edmonton, Canada.
Dias, 26, swam 3:21.36 to take almost six seconds off the previous best set in June 2012.
Since making his international swimming debut at the 2006 World Championships in Durban, South Africa, Dias has become one of the most decorated and well-known Paralympians in the world.
He has won 22 medals at World Championships, including 17 gold, and having competed in two Paralympic Games – Beijing 2008 and London 2012 – has won 15 Paralympic medals, including 10 gold.
With the 200m breaststroke SB4 world record in his possession, Dias now holds 10 world records; the only one he does not hold in his class is the 50m breaststroke which is held by Germany's Thomas Grimm.
To win the poll, Dias claimed 40 per cent of the public vote. In second with 32 per cent was US Nordic skier Oksana Masters who won her first IPC Nordic Skiing World Cup event in Vuokatti, Finland, in December.
Also nominated in December's poll were Italy's wheelchair fencer Beatrice Vio, Russian alpine skiing ace Valerii Redkozubov and guide Evgeny Geroev, US alpine skier Tyler Walker, and Ukrainian Nordic Skier Oleksandra Kononova.
The previous winners in 2014 include:
January – Markus Salcher, Austria, alpine skiing
February – Matti Suur-Hamari, Finland, para-snowboard
March best male – Declan Farmer, USA, ice sledge hockey
March best female – Marie Bochet, France, alpine skiing
March best team – Russia ice sledge hockey
April – Ali Jawad, Great Britain, powerlifting
May – Aled Davies, Great Britain, athletics
June - Safet Alibasic, Bosnia and Herzegovina, sitting volleyball
July – Markus Rehm, Germany, athletics,
August best youngster – Maria Lyle, Great Britain, athletics
August best male – Yevheniy Bohodayko, Ukraine, swimming
August best female - Sarah Morganti, Italy, equestrian
September – Eduardo Avila Sanchez, Mexico, judo
October – Siamand Rahman, Iran, powerlifting
November – Kelsey Diclaudio, USA, ice sledge hockey