FEBRUARY 2016

Andrey Smirnov - Athlete of the Month February 2016
28 August 1973
LATEST TRIUMPHS:

2017 World Championship – Silver

2016 World Championship – Gold

2015 World Championship – Gold

Sochi 2014 Paralympic Winter Games – Silver

2012 World Championship – Gold
The wheelchair curler helped Russia win back-to-back World titles.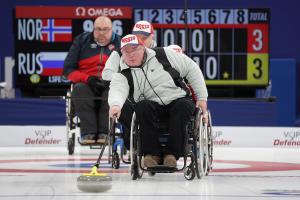 February 2016

'Athlete of the Month'
Russia's Andrey Smirnov has been named the Allianz Athlete of the Month for February following his team's success at the World Wheelchair Curling Championships 2016.
Smirnov, the team skip, helped Russia defeat Norway 7-4 in the finals. It was Russia's second straight world title – their third in five years – and bumped them to No. 1 in the world rankings. Russia went 9-2 overall in the tournament, which was held in Lucerne, Switzerland.
Smirnov received 51 per cent the public vote. Australian athlete Isis Holt was second with 40 per cent. Dutch snowboarder Bibian Mentel-Spee came in third with five per cent of the votes, followed by French alpine skier Marie Bochet (two per cent) and Russian Nordic skier Stanislav Chokhlaev (one per cent).
The 2016 winners are:
January – Abdullah Sultan Alaryani, United Arab Emirates, shooting