JANUARY 2015

Andrew Soule - Athlete of the Month January 2015
2 January 1980 USA
LATEST TRIUMPHS:

2017 World Para Nordic Skiing Championships - Silver: sprint cross-country; Bronze: middle distance cross-country

2015 IPC Biathlon and Cross-Country Skiing World Championships – Silver: middle distance classic cross-country, sprint and long distance biathlon; Bronze: long distance freestyle and sprint classic cross-country

2014-15 IPC Cross-Country Skiing World Cup – Overall winner

Vancouver 2010 Paralympic Winter Games – Silver: 2.4km pursuit biathlon
Find out about the full career
At Cable 2015 Soule made history be winning the most medals ever at a single World Championships by a US Nordic skier.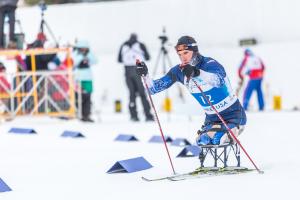 January 2015

'Athlete of the Month'
The USA's Andrew Soule has been voted the Allianz Athlete of the Month for January 2015 after a record breaking performance at the 2015 IPC Nordic Skiing World Championships.
On home snow in Cable, USA, Soule made history by winning the most ever medals by a US athlete at a Nordic Skiing World Championships, claiming three silver and two bronze medals.
The 34-year-old sit skier won silver in the 7.5km and 12.5km biathlon races as well as the 10km cross-country. In cross-country he also picked up bronze in the 1km sprint and the 15km races.
To win the poll, Soule claimed 37 per cent of the public vote to just edge out British snowboarder Ben Moore with 34 per cent. Moore has been in top form this year and won the first ever snowboard-cross head-to-head race in Aspen, USA. He secured his second World Cup win in the discipline in the upper-limb impairment class days later in Big White, Canada.
Also nominated in January's poll were Dutch wheelchair tennis player Jiske Griffioen, Ukraine's Oleksandra Kononova who won six world titles at Cable 2015, Norwegian sailor Bjornar Erikstad and the French Nordic skiing relay team.