Nottwil 2019: USA top table as Junior Worlds conclude
05.08.2019
Mauritius also celebrate after four medals in the island's competition debut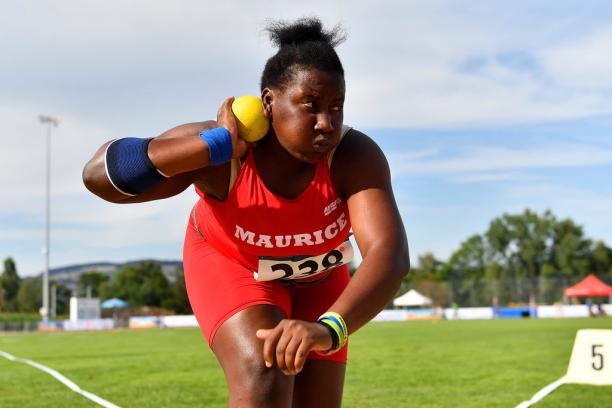 Brigilla Clair of Mauritius won gold in the women's shot put F20 Under 20 at the Nottwil 2019 Worlds
© • Luc Percival
By AMP Media | For World Para Athletics
The Nottwil 2019 World Para Athletics Junior Championships came to an end on Sunday following four days of top-quality action at the Sport Arena of the Swiss Paraplegic Centre which bore witness to seven new world records.
Team USA topped the combined medals table with 16 gold, three silver and nine bronze medals for an overall haul of 28 ahead of India and Germany who won 11 and eight titles respectively as 32 countries were represented on the podium.
Making their debut and finishing 19th were Mauritius, an island in the Indian Ocean with a population of less than 1.3 million. But they made light of their small population to come away with two gold medals and a silver and bronze apiece.
"I am very happy to have competed here but I was very nervous also because it was my first time"
Michel makes Mauritius proud
Roberto Michel completed a clean sweep of medals with gold in the men's 400m T34, silver over 200m and bronze in the 100m. Brigilla Clair also made a trip to the top step of the podium after victory in the women's shot put F20.
The 19-year-old Michel was making his international debut, and he was shocked by his medal haul at what was also Mauritius' first time at the event.
"I didn't expect it but I tried my best," he said. "I am very happy to have competed here but I was very nervous also because it was my first time."
Nottwil was just the start for Michel who has set his sights high, saying: "I will continue the training and try to do many other international competitions.
"We are planning to go to Tokyo."
Coach Jean-Marie Bhageerutty believes Michel can be a role model for all young men.
"I hope so," he said. "I think not [only] for disabled people but I think he will be a model for young, able-bodied because young guys [are like] – you have a disability and you can do this? Well I can do it. I hope all parents have a look at him.
"Forget the disability, think of the person, the personality. I hope all children or younger people can look at another model."
Bhageerutty now has big plans for his team at the Dubai 2019 World Para Athletics Championships.
"We have 11 Para athletes qualified for the World Championships in November. Two years ago it was only four, five, six athletes – not 11 – so we have improved. The level is higher and higher and higher."
Team Mauritius coach believes Para sport events at the recent Indian Ocean Island Games at home have had a real impact on the consciousness of the people.
"Before it was football and basketball but after the Games, I think Para athletics is the famous sport now. Just see [the] some comments on Facebook, after a race everybody was like 'oh wow'. Everybody focuses on Para sports."
Nicolaisen's shocking debut
South Africa finished fifth in the medals table and one of the stand-out performances of the final day came from Arina Nicolaisen who set a new world record in the women's 800m T38.
The 18-year-old crossed the line in 2:35.83 to slice 0.07 off the previous mark held by Portugal's Maria Fernandes for more than 18 years.
"It was very surprising because I tried to run it last year at home and I just missed it. So when I just got it I was very, very happy that all the training had paid off – a very big surprise," Nicolaisen said.
The South African was making her international debut in Nottwil .
"It has been amazing, the other teams are very nice," she said. "It's another experience to be here because it has been so many athletes and so many people."
All results from the Nottwil 2019 World Junior Championships can be found on the official website. https://www.nottwil2019.ch/en/