Twenty-five things we learned in 2014
31.12.2014
To mark the last day of the year, here are 25 fun, serious and interesting things we learned around the Paralympic Movement in 2014.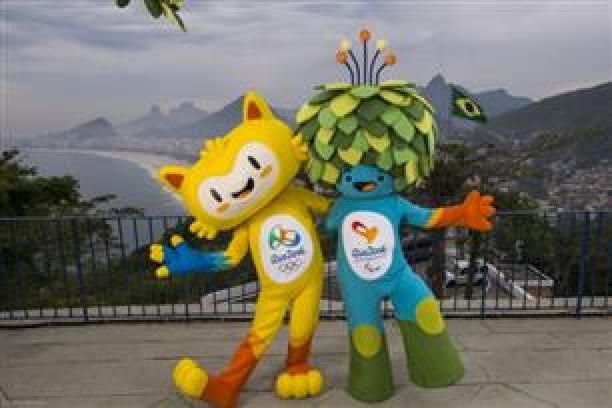 Best friends: The Rio 2016 Olympic and Paralympic mascots were born out of an explosion of joy
© • Alex Ferro/Rio 2016
By IPC
Check out the top 50 Moments of 2014
To mark the last day of 2014, here is quick look back at 25 things we learned in the Paralympic Movement this year.
1. Sochi proved London 2012 was no fluke
With record tickets sales and a record cumulative global TV audience of over two billion people, the success of the Sochi 2014 Paralympic Winter Games showed that what happened in London 2012 was not a one off. The Paralympic Movement is on a roll!
2. Breakthrough in the USA
After showing little coverage from London 2012, NBC and the United States Olympic Committee (USOC) showed more than 50 hours from the Sochi 2014 Winter Paralympics. This included screening the gold medal ice sledge hockey match between Russia and the USA live on NBC. The result – Josh Sweeney's name trending globally on Twitter as he bagged the winning goal for gold and momentum in one of the world's biggest markets.
3. Canada remain the team to beat in wheelchair curling
In Sochi, Canada won their third successive Paralympic gold in wheelchair curling and will start as very strong favourites to retain their world title at February's World Championships in Finland.
4. Schaffelhuber and Petushkov enjoyed Sochi 2014
German sit-skier Anna Schaffelhuber won five from five in alpine skiing at the Paralympic Winter Games, whilst on home snow Roman Petushkov became the first winter athlete ever to win six gold medals at one event. Quite an achievement.
5. Amy Purdy is more than a top class snowboarder
After winning para-snowboard bronze at Sochi 2014, Purdy wowed US audiences with her performances in hit TV show Dancing with the Stars. She later went on tour with Oprah Winfrey.
6. Bright futures for alpine skiing and swimming
At Sochi 2014, nearly half of all alpine skiing gold medallists were aged 23 or under and at the 2014 IPC Swimming European Championships in Eindhoven, the Netherlands, over 70 medals were won by swimmers under the age of 18 across 161 medal events.
7. Samsung know how to make great commercials
After launching their Sport Doesn't Care campaign at London 2012 with a superb commercial, Samsung followed it up with three more outstanding pieces of work for Sochi 2014.
Our favourite featured Keira learning to ski.
8. Tetris is from Russia
Hands up how many people did not know that the popular computer game was from Russia before the Sochi 2014 Closing Ceremony?
9. Australia are the world's best wheelchair rugby team
After success at London 2012, Australia cemented their position as the world's best wheelchair rugby team with a world title win in Denmark. Canada proved to be the nemesis of the USA once again beating them in the semi-finals as they did at London 2012.
10. 300kg a possibility for Rahman
After lifting a staggering 292.0kg at October's Asian Para Games in Incheon, Korea, it is surely only a matter of time before Iran's Siamand Rahman, the world's strongest Paralympian, breaks the 300kg barrier.
11. Ukraine are a Paralympic superpower
As seen in the latest edition of The Paralympian, Ukraine should now be considered a global superpower in Paralympic sport. Having finished 44th in the medals table at their first Paralympic Games in 1996, Ukraine has finished fourth at the 2008, 2012 and 2014 editions, a superb achievement for a nation still relatively new to para-sport.
12. Jonnie Peacock's dominance over 100m could be over
After winning the 100m T44 at London 2012 and Lyon 2013, Jonnie Peacock will face his biggest test yet in 2015, especially after US rival Richard Browne went unbeaten throughout 2014, beating the British sprinter on a number of occasions.
13. Para-badminton is now a Paralympic sport
In October, the IPC Governing Board decided that para-badminton will form part of the Tokyo 2020 sports programme. In late January a decision will be taken to finalise the full programme with a number of sports still vying for spots.
14. China continue to dominate table tennis
At the ITTF Para-Table Tennis World Championships in Beijing, Chinese athletes won 14 world titles, three times more than their Korean counterparts who finished second in the medals table.
15. Brazil did not lose to Germany in the World Cup 7-1
Not in Football 5-a-side anyhow! At the IBSA Blind Football 5-a-side World Championships in Tokyo, Japan, Paralympic champions Brazil hammered Germany 4-0 in the quarter finals before going onto beat Argentina 1-0 in the final to secure a fourth world title.
16. The Zanardi and Van Dyk rivalry continues to build
South African Ernst Van Dyk had the slight edge over his Italian handcycling rival Alex Zanardi in 2014. Van Dyk topped the world rankings and won one world title, whilst Zanardi finished second and claimed one world gold. Expect the rivalry to grow stronger between now and Rio 2016
17. The Japanese love wheelchair tennis
After the Dutch through Esther Vergeer previously dominated women's wheelchair tennis, it is currently Japan who are on top in both the men's and women's game. Shingo Kunieda lost just one game in 2014 to top the men's rankings whilst compatriot Yui Kamaji finished on top in the women's.
18. Zahra Nemati's profile continues to build
Since becoming Iran's first woman to win an Olympic or Paralympic gold medal at London 2012, para-archer Nemati has seen her profile continue to rise. In 2013 she won a world title and in 2014 she addressed a United Nations panel in New York, USA, on "Sports for inclusive development: Empowering persons with disabilities through sport."
19. Jacobsson knows the words to the Swedish anthem
After winning 16 Paralympic golds during a glittering career, Sweden's Jonas Jacobsson claimed his 18th and 19th world titles in July at the IPC Shooting World Championships in Suhl, Germany. After topping the podium a whopping 35 times in major events, Jacobsson must now be able to sing the Swedish national anthem backwards in his sleep! What is Swedish for legend?
20. The future could be Asia
After Oslo, Norway, withdrew from bidding for the 2022 Olympic and Paralympic Games, it all but confirmed that the next three editions after Rio 2016 will take place in Asia. PyeongChang, South Korea, will stage the 2018 Winter Games, Tokyo, Japan, the 2020 summer Games and on 31 July 2015, IOC members will decide the whereabouts of the 2022 Games. It is a straight choice between Almaty, Kazakhstan or Beijing, China.
21. The IPC is 25 years old
This year marked the IPC's 25th anniversary since it was formed in Dusseldorf, Germany, on 22 September 1989. In October 2014, the IPC celebrated in the German capital Berlin with a Gala Dinner that featured video messages from many leaders from the world of sport, entertainment and politics including International Olympic Committee (IOC) President Bach, US President Obama and Grammy Award winners Coldplay.
22. Ban Ki-moon likes what we're doing!
One of the messages for the IPC's 25th anniversary was from UN Secretary General Ban Ki-moon. He was full of praise for the IPC's work. "I warmly applaud the officials, athletes and others driving the Paralympic Movement," he said. "You advance progress around the world, and I am proud to be your fan."
23. London 2012 greatest moment
To mark the IPC's 25th anniversary a global poll was launched to find the best moment of the last 25 years. After nominations from all around the world, the IPC Governing Board chose the London 2012 Paralympic Games as their number one.
24. IPC President is the Innovator of the Year
In their December issue, SportsBusiness International named IPC President Sir Philip Craven their Innovator of the Year, placing him ahead of the likes of IOC President Thomas Bach and UEFA President Michel Platini.
25. The Rio 2016 Paralympic mascot is super cute
Launched in November in a blaze of publicity, the Rio 2016 Paralympic mascot may not have a name yet, but is already a global superstar. With its green leafy hair made from a fusion of plants found in Brazilian forests, the mascot is bound to entertain us all in the lead-up to and during the Rio 2016 Paralympic Games.