Recapping the month in para-sport: October 2015
02.11.2015
The biggest IPC Athletics World Championships came to a close in October.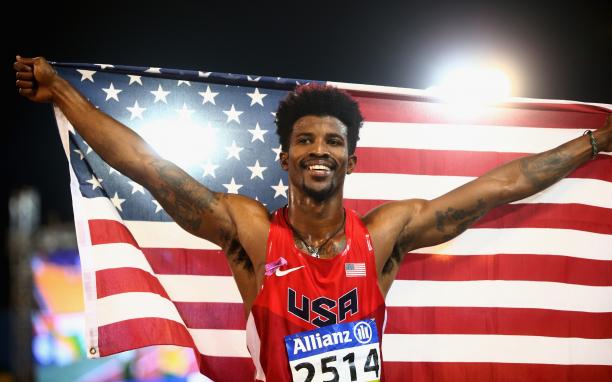 Richard Browne is the 100m and 200m world champion from 2015
© • LOC Doha 2015 | Getty Images
By IPC
Doha 2015 IPC Athletics World Championships
An impressive 54 world records were set as the 2015 edition of the World Championships closed on Saturday (31 October) in Doha, Qatar. It was the biggest para-sport event held in the Middle East. China topped the final medals table with a total of 41 gold, 26 silver and 18 bronze. Russia, who finished atop the table two years ago, ended runner up with 24 gold, 21 silver and 24 bronze. The USA were third. Complete recaps and highlights can be found at http://www.paralympic.org/doha-2015.
ITTF Para-Table Tennis European Championships
Spain's Alvaro Valera took the men's class 6 crown from Denmark's defending champion Peter Rosenmeier at the International Table Tennis (ITTF) Para-Table Tennis European Championships at Vejle, Denmark http://www.paralympic.org/news/vejle-2015-valera-partyka-win-european-ti.... The competition wrapped up on 17 October, with Poland's three-time Paralympic champion Natalia Partyka finished at the top of class 10, securing her spot at Rio 2016. Complete recaps can be found on the IPC's website.
Men's European Sitting Volleyball Championships
Defending world champion Bosnia and Herzegovina showed they are still in strong form after downing host nation Germany in straight sets on 7 October, en route to defending their Paralympic gold from London 2012.
IWBF Asia-Oceania Championships (wheelchair basketball)
The Australian women's wheelchair basketball team will not get to upgrade from their Paralympic silver medal from London 2012 after falling to China. The Chinese grabbed the only Rio 2016 qualification spot available at the International Wheelchair Basketball Federation (IWBF) zonal championship with a 59-43 victory in Chiba, Japan.
Meanwhile, the Australian men however booked their trip to Rio after cruising past Japan.
IWRF Asia-Oceania Championships (wheelchair rugby); World Wheelchair Rugby Challenge
The world's top wheelchair rugby teams battled at the BT World Wheelchair Rugby Challenge in London, Great Britain, with Canada ousting rival the USA for gold on 16 October.
Despite falling to beat Australia in the bronze medal match, Japan bounced back later in the month by claiming their first International Wheelchair Rugby Federation (IWRF) Asia-Oceania zonal championships http://www.paralympic.org/news/japan-upsets-australia-zonal-championships .
IBSA Blind Football African Championships
Morocco secured a spot at Rio 2016 after defeating Cameroon for the International Blind Sports Federation (IBSA) Blind Football African Championships.
IWAS Wheelchair Fencing World Cup
Italy's Beatrice Vio is close to a perfect season after taking her seventh straight major win at the International Wheelchair Amputee and Sports Federation (IWAS) Wheelchair Fencing World Cup in Paris, France.
IPC Wheelchair Dance Sport competition in Hasselt, Belgium
Slovenia's Barbara Samperl and Klemen Pirman maintained their world No. 1 pairing stats, just in time ahead of the 2015 World Championships (6-8 November) after taking two gold medals at the last IPC Wheelchair Dance Sport competition, in Hasselt, Belgium.