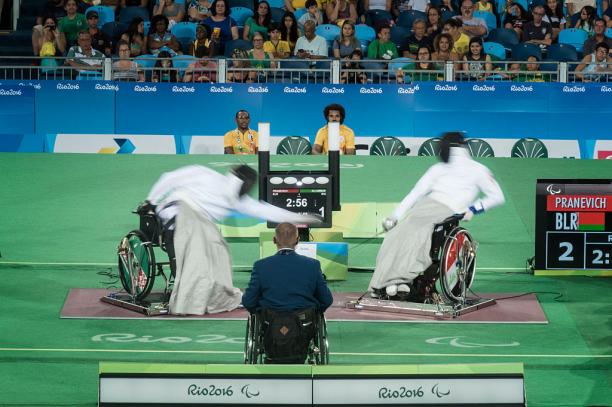 Wheelchair fencing
Wheelchair fencing was developed by Sir Ludwig Guttmann at the Stoke Mandeville Hospital and was introduced to the world at the Rome 1960 Paralympic Games.
Men and women with amputations, spinal-cord injuries and cerebral palsy are eligible to compete in foil epee (men and women) and saber (men) events. Their wheelchairs are fastened to the floor during competition.
Classification in wheelchair fencing
Watch Paralympic Sports A-Z: Wheelchair Fencing video.
International Wheelchair and Amputee Sports Federation (IWAS). Fencing

Type of data

Info data

©
Address
International Wheelchair and Amputee Sports Federation (IWAS) Aylesbury College Oxford Road Aylesbury Buckinghamshire HP21 8PD United Kingdom
Phone
+44 1296 780212
Mail

sport@iwasf.com

Website

http://www.iwasf.com/

Main Contact
Pal Szekeres