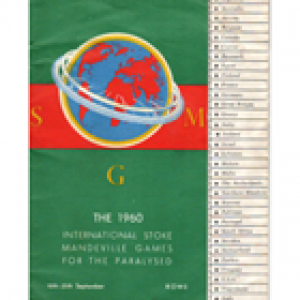 Italy
18 - 25 September 1960
Countries: 23
Athletes: 400
Medal events: 57
Sports: 8
Top 5 Medals Table

Top 5 Medals Table

| Pos. | Countries | Gold medals amount | Silver medals amount | Bronze medals amount |
| --- | --- | --- | --- | --- |
| 1 | ITA | 29 | 28 | 23 |
| 2 | GBR | 20 | 15 | 20 |
| 3 | GER | 15 | 6 | 9 |
| 4 | AUT | 11 | 8 | 11 |
| 5 | USA | 11 | 7 | 7 |
Read more...

about Results following the link
The Rome 1960 Paralympic Games was a tremendous step in sport for athletes with a physical impairment.
The founder of the Paralympic Movement, Sir Ludwig Guttmann, and the Director of the Spinal Centre in Rome, Antonia Maglio, started preparations for the Games two years prior. It would be called the 9th Annual International Stoke Mandeville Games.
Now regarded as the Rome 1960 Paralympic Games, the competition took place six days following the Closing Ceremony of the XVII Olympic Games and was supported by the Italian Olympic Committee and the Italian Institute for Disabled Workers (INAIL).
SPORTS
A total of eight different sports debuted at the first-ever Paralympic Games, all of which were considered beneficial and suitable for athletes with spinal cord injuries.
Archery Para athletics Dartchery Snooker Para swimming Table tennis Wheelchair fencing Wheelchair basketball
OPENING CEREMONY
The Opening Ceremony on 18 September garnered a crowd of 5,000 spectators, which greeted the wheelchair athletes during their colorful entry into Acqua Acetosa Stadium. Camillo Giardina, the Italian Minister for Public Health at the time, officially declared the Games open to the world.
MEDALS
In the debut of the Paralympic Games on the world stage, host nation Italy finished atop the medal standings, as Great Britain, Germany, Austria and USA rounded out the top five with stellar performances.
CLOSING CEREMONY
The Closing Ceremony on 25 September was held in the Palazetto dello Sport in the Olympic Village in the presence of Sir Guttmann, the Patron of the Games, and the wife of the Italian President, Donna Carla Gronchi.
Sir Guttmann summed of the Games saying: "The vast majority of competitors and escorts have fully understood the meaning of the Rome Games as a new pattern of reintegration of the paralyzed into society, as well as the world of sport."