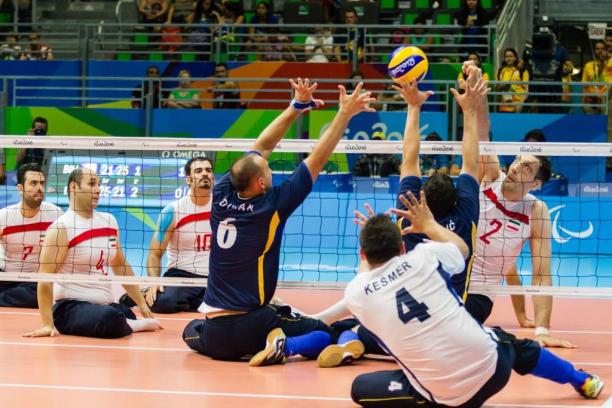 Sitting volleyball
Sitting volleyball is a team sport featuring constant motion, communication and bursts of explosiveness. Two teams of six players are separated by a net and try to score points by grounding the ball onto the other side's court.
Sitting volleyball has many similarities to its stand-up version, but of course, with a few modifications.
Whilst teams in the stand-up version are separated by a raised net, sitting volleyball is played from a lower net. The court dimensions in sitting volleyball are also smaller.
The main difference between the two versions is that sitting volleyball, as its name implies, is played from seated positions. At all times, the athlete's pelvis must be in contact with the ground, and service blocks and attacks are allowed.
It is played in a best-of-five set format, and the first to reach 25 points (with at least a two-point lead) wins the set.
Two medal events (men and women featuring eight teams each, total of 192 athletes) were contested at the Paralympic Games in Rio de Janeiro. World ParaVolley is the global governing body of sitting volleyball.
Watch Paralympic Sports A-Z: Sitting Volleyball video.