WHEELCHAIR FENCING

Beatrice Vio
4 March 1997
LATEST TRIUMPHS:

Rio 2016 Paralympic Games - Gold: Foil, Bronze: Foil team

2015 World Championships - Gold: Foil

2014 European Championships - Gold: Foil, foil team

2013 IWAS Wheelchair Fencing Grand Prix, Lonato – Gold: Foil category B

2013 IWAS Wheelchair Fencing Grand Prix, Montreal – Gold: Foil category B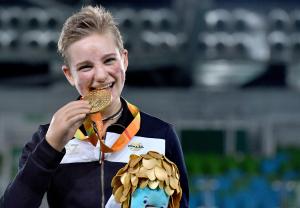 After representing future Paralympians as a torchbearer at the London 2012 Paralympic Games, Vio went on to win to one gold and one bronze medal at Rio 2016.
Aged just 19 at the time, Vio defeated China's Jingjing Zhou 15-7 to win Paralympic gold in the individual foil B. She progressed from the pool stage undefeated, winning all her bouts 5-0. In the quarter-finals she defeated Poland's Marta Makowska on 15–6, then overcame defending China's Paralympic champion Fang Yao, on 15–1 to make the gold medal match.
Days later, the new Paralympic champion won bronze in the foil team. Joining her on the podium was her teammates Andrea Mogos and Loredana Trigilia, behind China and Hungary in gold and silver respectively.
In 2008, at 11, Vio contracted meningitis which resulted in a stay of over 100 days in the hospital. Doctors were able to save her life but only at the cost of the amputation of all four limbs.
Fencing was a passion for Vio before her illness, and she quickly adapted to wheelchair competition. Trained by coaches Federica Berton and Alice Esposito, Vio took part in her first official wheelchair fencing match in Bologna, Italy, in May 2010. As the only wheelchair fencer in the world to compete with no arms and no legs, she has n'o looked back since.
Vio did not compete at the London 2012 Paralympics but soon afterward made it into the Italian senior squad. She quickly made it very clear she was a serious contender in the category B foil discipline.
December 2012 saw Vio finish as runner-up at the IWAS Wheelchair Fencing World Cup in Eger, only losing in the final to London 2012silver medallist Dani Gyongi of Hungary.
Vio built on this performance at her next major competition in April 2013, beating Marta Makowska of Poland, a bronze medallist at London 2012, to take victory at the IWAS Wheelchair Fencing Grand Prix in Montreal, Canada.
She then secured a successive tournament win at May's Grand Prix competition in Lonato del Garda, Italy.
Aged just 16, Vio took part in the 2013 World Championships, but could only manage 10th in the category B foil event.
A year later, she was topped the podium twice at the European Championships, taking gold in the in the individual and team foil events.
At the 2015 World Championships in Eger, Hungary, Vio achieved her objective for the season, claiming the world title after beating home favourite Gyongyi in the foil final. She also went the whole season unbeaten.
Although she retained her individual European title on home territory in 2016 beating Russia's Irina Mishurova, her run of 11 consecutive World Cup victories came to an end in July when she was beaten by another Russia's Viktoria Boykova.
Following victory at Rio 2016, Vio was invited to be part of an Italian delegation attending a star-studded State Dinner at the White House in Washington DC, USA. She topped off a memorable 2016 by taking a selfie with US President Barack Obama.
Follow us on Facebook
Follow us on Twitter