Youth Workshop Opens in Kigali, Rwanda
13.02.2012
A Youth Workshop in Rwanda this week aims to develop the Paralympic Movement in East Africa.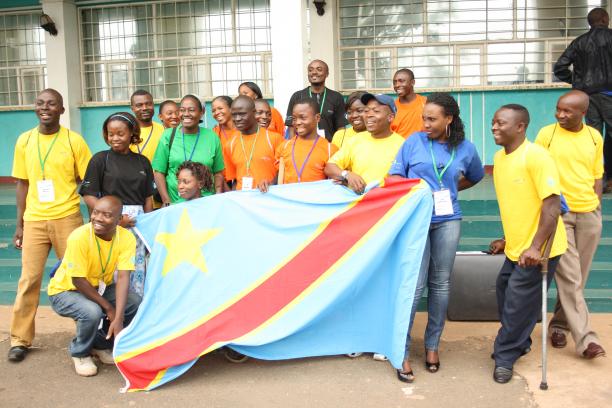 Athletes, coaches and youth co-ordinators from the Democratic Republic of Congo
© • IPC
By IPC
"My motto is: disability is not my ability. I respect myself. I am able. We are able."
The 2012 Agitos Foundation Youth Workshop in Rwanda opened on Monday (13 February) in Kigali with the aim of training participants to develop and implement a Paralympic Youth Sport Programme in their own countries
Over 50 athletes with different disabilities, 36 Goalball, Sitting Volleyball and Athletics coaches and 12 youth co-ordinators all from Burundi, the Democratic Republic of Congo, Kenya, Rwanda, and Uganda have gathered for a week-long camp which involves sports training, workshops and cultural exchange.
The programme has been organized by the Agitos Foundation, the IPC's development arm, in co-ordination with Play and Train and Playable, two European organizations that are facilitating workshops for the young athletes and youth coordinators.
At the opening ceremony delegations from the Rwandan Sport Ministry, Handicap International, Unicef, the British High Commission and the German Embassy were present.
Kenya's Abraham Cheruiyot Tarbei, who won 1500m and 5000m T46 gold at the Beijing 2008 Paralympic Games was also there and gave a stirring speech.
"My motto is: disability is not my inability. I respect myself. I am able. We are able. Respect your ability. These are our athletes, let us motivate them," Tarbei said.
NPC Rwanda, which has acted as the Local Organizing Committee for the event, hopes the camp will kick-start a new wave of development in East Africa.
"Together with other East African Region NPCs, we expect further 'Sport for Change' projects to flow from this workshop and look forward to the development opportunities for our volunteers; further training for our in-country coaches and the extra capacity that will come from Youth Co-ordinators.
"Combined with other programmes that we deliver at grassroots, national and regional levels we feel that this workshop will build upon the growing 'family' of all those promoting sport as a means of integration for people with a disability," said Elie Manirarora, Vice President of National Paralympic Committee of Rwanda.
The camp has been co-financed by Charity and Sport and the European Union's (EU) Youth in Action programme, which both recognize the power of sport to promote an inclusive society.
"… the Commission is particularly happy to support a project which targets young people who experience difficulties linked to their disabilities: developing sport activities for disabled people can help them gain self-confidence and self-sufficiency and this must be encouraged," said Androulla Vassiliou, European Commissioner for Education, Culture, Multilingualism and Youth.
The camp continues until Saturday 18 February.