What to watch: July 2015
02.07.2015
With major events such as the swimming and para-cycling road World Champs, this is an important month for many athletes.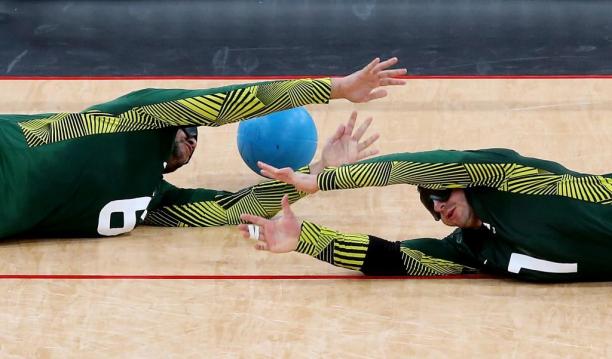 Jose Roberto Ferreira de Oliveira (R) and Romario Diego Marques of Brazil fail to stop a goal during the Men's Group A Goalball match between Finland and Brazil at the London 2012 Paralympic Games.
© • Getty Images
By IPC
IBSA Goalball European Championships Men & Women A (5-12 July)
Teams will gather in Kaunas, Lithuania, to battle for the European title and a chance to qualify for the Rio 2016 Paralympics. No. 2 world ranked Lithuania are the team to beat on the men's side, while No. 6 Turkey rank the highest in the women's pool.
Czech Target 2015 (6-13 July)
The para-archery world ranking tournament will be held in Nove Mesto nad Metuji, Czech Republic. Classes competing will be: recurve open, compound open for men and women (individuals, teams, mixed teams), compound W1 for men (teams/ individuals) and visually impaired.
IPC Shooting World Cup (7-15 July)
Held in Osijek, Croatia, this will be the first of three World Cup Paralympic qualifiers of the year. The Ukrainian couple of Vasyl and Olga Kovalchuk, and Sweden's Jonas Jacobsson are among those headlining the event.
IWAS Wheelchair Fencing World Cup (9-12 July)
For many athletes, this is the last opportunity to face strong competition before September's World Championships in Eger, Hungary. The World Cup will be held in Warsaw, Poland, giving fencers, such as Adrian Castro (world No.1 in the category B sabre discipline) and Marta Makowska (London 2012 bronze medallist in category B foil) a home crowd advantage.
2015 Geneva ETU Triathlon European Championships (9-12 July); Iseo - Franciacorta ITU World Para-Triathlon Event (18 July)
Europe's best para-triathletes will compete at the European Championships in Geneva, Switzerland, before many will head to Iseo-Franciacorta, Italy, to earn points toward September's ITU World Triathlon Grand Final in Chicago, USA.
New Taipei City Cup Open, wheelchair dance sport (9-12 July)
The Philippines' couple of Julius Jun Obero and Rochelle Canoy are ones to watch in Taiwan, as athletes from seven countries will take the dance floors for the third-to-last event before the World Championships.
Wimbledon (9-12 July); British Open (14-19 July)
The Grand Slam event will feature defending doubles champions. Wheelchair tennis events will remain in Great Britain but move to Nottingham for the British Open, a Super Series event.
IPC Swimming World Championships (13-19 July)
More than 580 swimmers from 70 countries will compete in Glasgow, Great Britain, in the biggest swimming competition of the year. World titles are up for grabs, but so are qualifications slots for Rio 2016. Tickets are still available online but if you cannot make it you can always watch the livestream.
Boccia World Open – Seoul (17- 23 July); Boccia European Team & Pairs Championships (23-27 July)
Following the World Open in Poznan, Poland, teams and athletes get another shot at earning valuable world ranking points toward Rio 2016. Seoul, South Korea will stage the competition, which will feature events in the BC1, BC2, BC3, BC4 classes; BC3 BC4 pairs and BC1/BC2 team.
Meanwhile, European team and pairs will compete in Surrey, Great Britain, for a shot at qualifying for Rio 2016.
UCI Para-Cycling Road World Cup (24-26 July); UCI Para-cycling Road World Championships (28 July - 2 August)
The third segment of the World Cup series heads to Elzach, Germany. For many cyclists, the event is a final tune-up before the Road World Championships in Nottwil, Switzerland.
PTT Thailand Open 2015 (24-27 July)
The para-table tennis event will be held in Pattaya, Thailand, and is just one of the few events before regional qualifying events begin.
IPC Powerlifting Asia Open Championship (26-30 July)
The sixth edition of the competition will be held in Almaty, Kazakhstan, and has attracted 220 athletes from 30 countries.
IPC Athletics Grand Prix Final (26 July)
The Athletics Grand Prix series will conclude in London, Great Britain. The 2015 series was littered with world record-break performances, with more expected to come in later this month.