Sochi 2014 one year on: A broadcaster's viewpoint
15.03.2015
Yuichi Ichiko, a producer for Japanese broadcaster NHK Sports was in Sochi covering his first Paralympic Winter Games.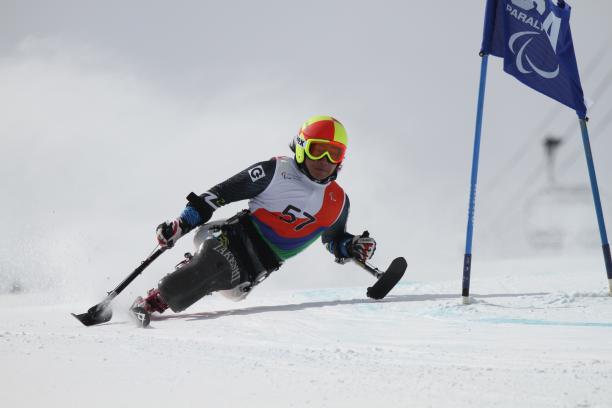 Japan's Takeshi Suzuki in the Giant Slalom at the IPC Alpine Skiing World Cup in Winter Park, USA. He did not finish both races.
© • Michael Knaus
By Yuichi Ichiko | For the IPC
One year on from covering his first Paralympic Winter Games, Yuichi Ichiko of NHK Sports gives his views of covering the Sochi 2014 Paralympic Winter Games.
"Sochi 2014 was the first Paralympic Winter Games I attended. The rich 10 days changed dramatically my impression towards Paralympic sport. I was overwhelmed about how exciting the Paralympic Games are as a sport tournament. I cannot count how many times I said "Amazing! How can they can do that!" in my mind. I was convinced experiencing the Paralympic Games was important. Once you meet and know them, Paralympians will catch your heart!
NHK is the only public broadcaster in Japan and one of its objectives is to provide enriched and high-quality programmes for the public welfare. We have been involved in Paralympic sport broadcasting since the Nagano 1998 Games. As for news coverage, our history goes back to the days of the Tokyo Games in 1964. We have been leading Paralympic coverage in Japan for a long time and contributing to the growth of the Paralympic Movement.
For Sochi 2014, NHK had around 50 crew members on site - commentators, directors, editors, technicians and so on. All of them were fully influenced by the excitement of the Games. Our policy for broadcasting is to provide the viewers with intelligible details to tell the many sides of the stories. Each athlete has a different impairment, no one athlete is the same. So each athlete has their individual task and plans to win a race or event. As a broadcaster we feel the responsibility to put in every effort to try and explain how an athlete is preparing for a task and how they overcame it.
One of the highlights of Sochi 2014 was definitely Japan's five medals (including three gold medals) from the alpine skiing team. They did really well. We also saw some impressive young stars coming through as well. The ability of sit-skiers and standing skiers to compete on one ski was amazing. It really showed us courage. The enthusiasm towards their tactics in seeking ways to use their bodies and equipment amazed me. They put in every effort all the way. What I saw from their skiing was truly explained by the words from the Closing Ceremony where "Impossible" changed to "I'm possible".
Tokyo 2020 is coming in five years' time. I cannot wait for it. The Games will be an opportunity for the entire nation of Japan to experience the Paralympic Games. This will be a valuable occasion. Also the success of Sochi 2014 proves that the Games will be a big benefit for Japanese society. But as a broadcaster we must work hard on how we focus the Paralympic Games through the media. For that, building up substantial coverage for Rio 2016 and PyeongChang 2018 will be essential. We are looking forward to facing the big task in these five years. There is a lot we must do, but I strongly feel this is possible!
Yuichi Ichiko, is a producer for Japanese broadcaster NHK Sports.