Sochi 2014 athletes' view: Bibian Mentel-Spee
10.03.2015
The winner of the very first women's Paralympic gold in para-snowboard talks about pushing the sport on after the success of the Paralympic Winter Games.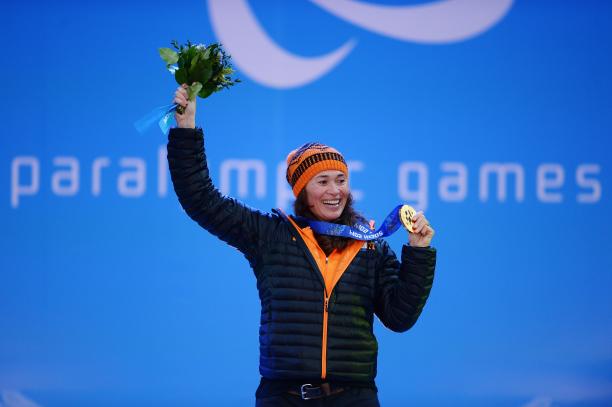 Dutch rider Bibian Mentel receives her Sochi gold medal after becoming the first ever female snowboard champion at a Paralympic Winter Games at Sochi 2014.
© • Getty
By IPC
One year after her historic para-snowboard gold medal at the Sochi 2014 Paralympic Games, the Netherlands' Biban Mentel-Spee speaks exclusively to Paralympic.org about how things have changed for her and the sport since winning the inaugural event in Russia.
Reflecting on her win whilst at the 2015 IPC Para-Snowboard World Championships in La Molina, Spain, Mentel-Spee said the reaction at home was: "Enormous, it was crazy to see how it all worked actually. But it was so much fun as well."
It is clear from Mentel-Spee's face that the emotion and enjoyment is still there 12 months later.
"I just loved every single minute of it and I still do" added the champion.
When asked if there was one stand-out memory, Mentel-Spee, who was instrumental in getting snowboarding into the Paralympic Games for the first time in Sochi, commented: "Sochi was so much more than just winning the gold medal to me. Getting the sport there and being there with three of my teammates, who made it there as well, and who we helped develop with my own foundation, the Mentelity Foundation, was amazing.
"It was just so much more than being an athlete out there. So it's the whole story I guess."
The snowboard-cross event was one of the highlights of Sochi 2014, becoming an instant hit with spectators and television viewers. But Mentel-Spee thinks more is still to come from her sport.
"The level of riding has progressed so much ever since Sochi" she said. "All the riders have just progressed enormously, and also so has the sport."
Now with two recognised disciplines, banked slalom and snowboard-cross, and three classifications the sport is indeed progressing rapidly and Mentel-Spee, who competes in both events within the women's SB-LL2 category, is one of the driving forces behind its development.
In between winning two gold medals at La Molina 2015 just weeks ago, Mentel-Spee sat down with her fellow riders and discussed how to develop the sport and move it further forwards.
With her drive and passion for the sport it was Mentel-Spee who was elected by her peers to sit on the IPC Alpine Skiing Sport Technical Committee and be their voice for para-snowboard on the road towards Pyeongchang 2018.
"It's an honour for me to be the athletes' representative to the IPC and I hope to develop the sport even more and attract youngsters to come out and do our lovely sport as well," Mentel-Spee said.
But when it comes to talk of retirement, there is a swift response from the 42-year-old. "I still love snowboarding every day, when I am out there on my board," she said. "And I hope to do this for a lot longer still."
The Sochi 2014 Paralympic Winter Games took place between 7-16 March and attracted 547 athletes from a record 45 countries. The Games were watched by a record 316,200 spectators whilst the cumulative TV audience broke two billion for the first time.