Sochi 2014 athletes' view: Declan Farmer
13.03.2015
One year after Sochi 2014, the USA's ice sledge hockey star looks back at his Paralympic dream and ahead to the future.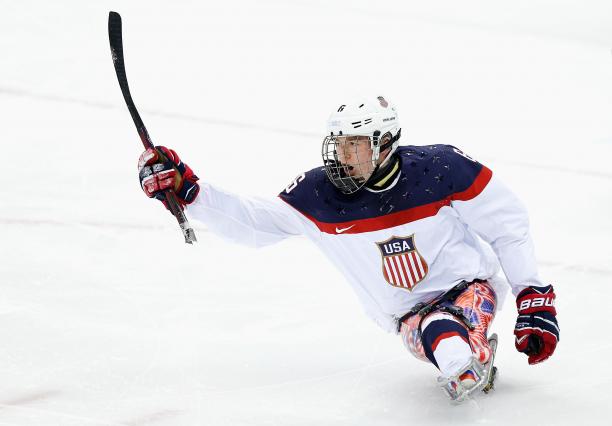 Declan Farmer celebrates after scoring a goal against Canada in the ice sledge hockey semi-finals at the Sochi 2014 Paralympic Winter Games.
© • Getty Images
By Stuart Lieberman | For the IPC
"I was surprised by all the international media attention there was, and the crowds were bigger than I've ever seen before."
In February 2012, double-leg amputee Declan Farmer was featured on NBC's annual Hockey Day in America coverage as a member of the Tampa Bay Lightning sledge hockey team.
The pre-recorded feature piece, "Determination overcomes disability," tugged at the heartstrings of the American public.
Fast-forward two years later, and Farmer was back on NBC, and this time, with viewers watching live as he helped USA beat Russia, 1-0, in the gold-medal ice sledge hockey match at the Sochi 2014 Paralympic Winter Games.
Farmer played more than 87 minutes during the Sochi 2014 tournament, scoring three goals and recording two assists to help the USA become the first sledge hockey team to win back-to-back Paralympic titles.
One year removed from Sochi 2014, the forward still gets giddy talking about the experience.
"I was surprised by all the international media attention there was, and the crowds were bigger than I've ever seen before," Farmer said. "It brought a whole new aspect to the game that a lot of us had not witnessed before."
In Sochi, Farmer was just 16 years old and in his second season on the USA's national team. He had never played in front of a large crowd before and was not used to constant attention from reporters.
The breadth of the Paralympic Winter Games really hit him when he entered Sochi's Fisht Olympic Stadium with his teammates for the Opening Ceremony, which he said was his favourite moment of the Games other than winning gold.
Farmer and the USA cruised to a 5-1 victory in their opening preliminary round game against Italy, and then recorded a 3-0 win against South Korea the next day.
But then came the wake-up call.
Even after having an extra day to prepare, the USA lost to Russia, 2-1, in their final preliminary round game, meaning they would finish second in Group B.
"It was pretty shocking," Farmer said. "We knew Russia had a good team, but we had never lost to them before, and we weren't planning on losing to them. It was surprising how well they played in front of their home crowd. Usually, you'd think, they'd be off a bit or get a little nervous, but they really took it to us.
"And then having to play Canada in the semi-finals to get to the gold-medal game was pretty surprising. But I guess it paid off in the long-run because it got us going a little bit, and after that we were more alert."
Alert is an understatement.
The USA did not conceed a single goal in the playoffs, beating arch rivals Canada 3-0 in the semi-finals before going on to beat Russia for gold.
Not only did the US sledge hockey team capture NBC viewers, but it also graced the front of the New York Times sports section, ESPN's social media accounts and numerous international publications and broadcasts.
The media whirlwind continued for Farmer into the months after the Paralympics, too.
Farmer, who also led his team in both goals (seven) and points (12) for the 2013-14 season, was named the IPC's Best Male Athlete at Sochi 2014 after a public vote on Paralympic.org.
He was honoured by the NHL's Tampa Bay Lightning team, participating in a ceremonial puck drop prior to their game against the Montreal Canadiens last April. He signed autographs for fans during the first intermission of the game, and those who wanted to watch the NHL game with Farmer and his gold medal could purchase a special ticket that included a donation to the Lightning's sledge hockey programme.
Then, last July, Farmer won a 2014 ESPY Award in Los Angeles for the Best Male Athlete with a Disability.
Now, with his gold medal safely stored away in a bedroom drawer, Farmer finds himself preparing for another major international tournament – one that will take place in his home country this time.
The Florida native is gearing up for the 2015 IPC Ice Sledge Hockey World Championships A-Pool, which are scheduled for 26 April - 3 May in Buffalo, New York, one of the USA's most hockey-crazed cities.
There is no better time or place for Farmer to put on his next big show than that.
Tickets for the World Championships A-Pool in Buffalo are available at Buffalo2015.com.
Paralympic.org is re-living the best moments from Sochi 2014 to celebrate one year since the most successful Paralympic Winter Games in history.