Ones to watch for 2017 for judo and table tennis announced
13.01.2017
Six judoka and eight table tennis players have been named as athletes to look out for in 2017.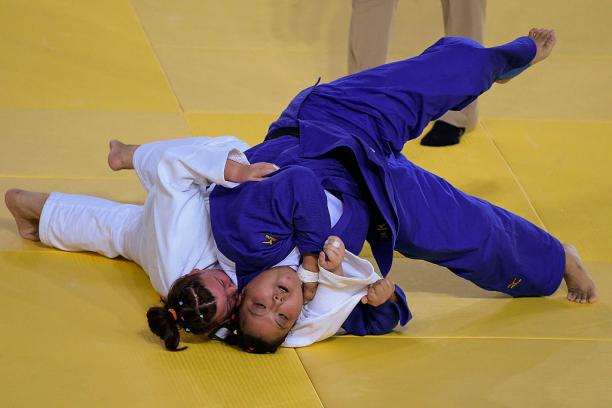 Yanping Yuan (blue) is a three-time Paralympic and reigning world judo champion
© • Getty Images
By IPC
The International Paralympic Committee (IPC) continued to announce its Ones to Watch athletes for 2017 on Friday (13 January) by naming athletes in judo and table tennis.
Selected in partnership with the International Blind Sports Association (IBSA) and the International Table Tennis Federation (ITTF), the Ones to Watch athletes are individuals who have the potential to make the headlines in judo and table tennis during the next Paralympic cycle ahead of the Tokyo 2020 Paralympic Games.
With one eye on the next Paralympic Games, many of this year's Ones to Watch are young athletes who will develop between now and Tokyo 2020. Others are Paralympic and world medallists looking to stay at the top of their game.
Until 19 January, the IPC will announce Ones to Watch athletes in two sports each day. Around 230 athletes from 22 sports will be named Ones to Watch for 2017 in an effort to make it easier for the public and media to understand which athletes to look out for.
The 2017 Ones to Watch for judo and table tennis are:
Antonio Tenorio (BRA)
Dalidaivis Rodriguez (CUB)
Eduardo Avila Sanchez (MEX)
Inna Cherniak (UKR)
Sherzod Namozov (UZB)
Yuan Yanping (CHN)
Borislava Peric-Rankovic (SRB)
Jingdian Mao (CHN)
Kelly Van Zon (NED)
Laurens Devos (BEL)
Peter Rosenmeier (DEN)
Rob Davies (GBR)
Sandra Paovic (CRO)
Yang Ge (CHN)
On Saturday (14 January), the IPC will announce Ones to Watch athletes in sitting volleyball and goalball.