Display of world-class sports stir excitement one year until Rio 2016
08.09.2015
Attendees were treated to rivalry football 5-a-side and sitting volleyball matches during one-year-to-go celebrations.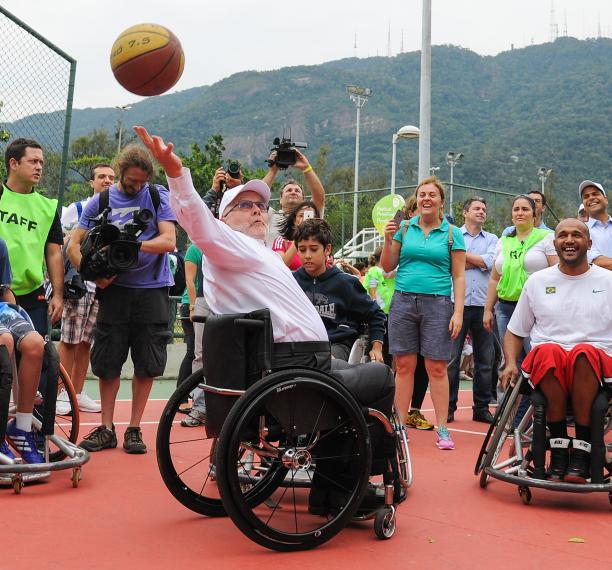 IPC president Sir Philip Craven, a five-time Paralympian in wheelchair basketball, shows them how it's done.
© • Rio 2016/Alex Ferro
By Rio 2016
"Trying them out is the best way to get to know Paralympic sports, and people here had the chance to check out lots of sports."
International Paralympic Committee (IPC) President Sir Philip Craven was joined by para-athletes, musicians, dancers and plenty of well-wishers at the one-year-to-go Paralympic Festival, a two-day sports and culture celebration held 6-7 September in Rio de Janeiro, Brazil.
"It seems like only two days ago that I was in London passing the flag on to Rio de Janeiro, but here we are with just one year to go until the first Paralympic Games in South America," Sir Philip said.
The words were just a glimpse of the excitement building with less than a year to go until the Rio 2016 Paralympic Games begin.
Monday's festivities were also the official launch of Rio 2016 ticket sales, which are now available to Brazilian residents.
"The responsibility of what is ahead is big, but Rio will deliver an incredible Games and Brazil will perform brilliantly, and not just within the arenas," said Andrew Parsons, President of the Brazilian Paralympic Committee (CPB) and IPC Vice-President, during the festival. "Our goal is to sell 3.3 million tickets – half a million more than in London 2012."
Despite the passing rain showers, local crowds were out in force at the festival, trying their hands – and feet, ears and eyes – at various Paralympic sports, as well as watching the professionals in action.
Brazil women's sitting volleyball team had a rematch against USA, who beat them 3-0 in the Parapan American Games in Toronto, Canada, last month. The Brazilians were victorious on home turf, winning 3-2.
Gracious in defeat, the American team loved coming down to take part in the match.
"It was super exciting; I have never played outside before and now — wow, it is such a beautiful place, with that awesome landscape," said American volleyball player Bethany Zummo. "Brazil is my favourite country to visit, so I hope I will come back next year."
The two best Paralympic 5-a-side football teams, Brazil and Argentina, also had a Parapan Games rematch. However, Brazil were not able to repeat their 2-1 Toronto 2015 victory, as the match came to a 0-0 draw.
"The game was really hard, as it always is against Argentina, hence the draw," said Jefinho, the star player in the Brazilian team. "But the event was great. Trying them out is the best way to get to know Paralympic sports, and people here had the chance to check out lots of sports."
Festival goers also watched a wheelchair basketball match, and the crowning of Cuba's Omara Durand and Ireland's Jason Smyth as the fastest para-athletes in the worlds.
"We are hoping for lots of support from all of you on the pitches, the courts, in the swimming pools, the stadiums and arenas next year," said Jefinho.
Rio 2016 tickets for Brazil's residents went on sale Monday, with a full list of authorised ticket resellers for overseas territories due to be published on Rio2016.com later this month.