Paralympics New Zealand 'goes gold' to mark #1yeartogo
08.09.2015
The National Paralympic Committee is asking the public to support their para-athletes by donating funds for the road to Rio 2016.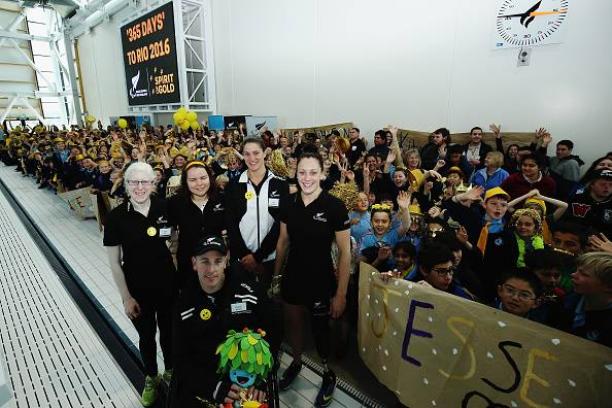 New Zealand Paralympic athletes Emma Foy, Mary Fisher, Laura Thompson, Sophie Pascoe and Michael Johnson pose for a photo during the Paralympics New Zealand Spirit of Gold campaign launch to mark '1 Year To Go' until Rio 2016 Paralympic Games at Millenium Institute on September 7, 2015 in Auckland, New Zealand.
© • Hannah Peters / Getty Images
By Paralympics New Zealand and IPC
"Sport can give us so much. It gives us goals to chase and the satisfaction that comes through achieving them."
Paralympics New Zealand launched a new 'Spirit of Gold' initiative on Monday (7 September) aimed at raising funds and awareness to support para-athletes on their road to the Rio 2016 Paralympic Games.
The launch, which went live to celebrate one year until Rio 2016, involved 365 school children and over 80 offices and schools.
Spirit of Gold is a new long-term campaign to increase awareness and raise funds to support para-athletes and secondly, to invest in the development of para-sport across New Zealand. A series of events will be rolled out nationally in coming months to enable the community to get closer to para-sport, but in the meantime, Paralympics New Zealand is very hopeful that kiwis will be generous and donate now at their website.
Selwyn Maister, Chairperson of Paralympics New Zealand, said: "New Zealand para-sport has seen staggering success and growth since the Athens 2004 Paralympic Games. Back then, we were tenth in the world per capita for medals won. By London 2012, thanks to the support of High Performance Sport New Zealand and PNZ [Paralympics New Zealand] members and partners, our para-athletes developed so fast that PNZ was ranked number one in the world per capita for medals won. We now look with excitement towards Rio 2016, targeting 18 medals, including 12 gold."
To launch the Spirit of Gold initiative, 365 children with impairments and able-bodied children from Sommerville Special School and Murrays Bay School, were invited to spend the morning at the AUT Millennium in Auckland, home to New Zealand's National Training Centre for Para-Swimming.
The children, dressed in home-made gold supporters' costumes and carrying signs in support of their favourite para-athletes, helped mark the moment by taking part in a photoshoot with Rio 2016 gold medal hopefuls, including Sophie Pascoe, Mary Fisher, Michael Johnson, Emma Foy and Laura Thompson.
Minister of Accident Compensation Corporation (ACC) and Youth, the Honorable Nikki Kaye, also took part with other key dignitaries.
Kaye said: "It's fantastic that these young people will get a chance to see their Paralympic heroes today, and see that sport can be a part of everyone's life. Sport can give us so much. It gives us goals to chase and the satisfaction that comes through achieving them. The Paralympics are going from strength to strength and showing us what's possible when we focus on what can be done, not what can't be done."
This photo shoot was followed by a para-swimming display, presented by seafood company Sanford, Paralympic New Zealand's newest major partner. Volker Kuntzsch, CEO of Sanford, and Maister also signed the new agreement at the event.
Volker Kuntzsch, Chief Executive Officer of Sanford, said: "We are so pleased to be here and a part of this wonderful celebration. Sanford is a company that is very passionate about developing people and so the support that Paralympics New Zealand gives to help para-athletes be the best they can be is very inspiring. We are very much looking forward to supporting the team on its way through Rio 2016 and beyond."
The children moved on to a Paralympics New Zealand 'Para-Fun' day, jam-packed with demonstrations, games quizzes and information sessions led by Paralympic champions such as Fisher. In parallel, people from over 80 offices and schools showed their support by wearing yellow and giving a gold coin to the cause.
Fisher said: "Today is an exciting landmark for all Paralympians as we continue on our Road to Rio 2016 and it's so cool that kids dressed up in gold today to celebrate with us. I am really looking forward to the next 12 months and preparing to be the best that I can be."