For Balk, Lillehammer set bar for Winter Paralympics
11.06.2015
The former US sit-skier recalls what made the 1994 Winter Games special and the changes he has seen since.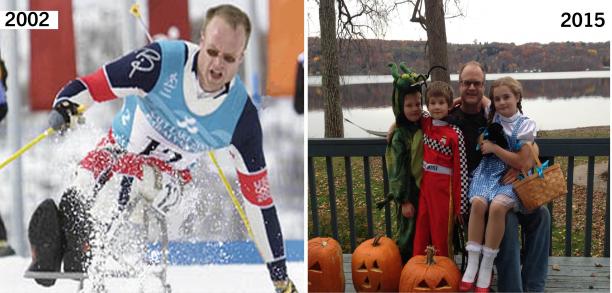 Bob Balk is the former Chairperson of the International Paralympic Committee's (IPC) Athletes' Council and six-time US Paralympic sit-skier.
© • Bob Balk
By IPC
Editor's note: "#ThrowbackThursday" is a feature series published on Paralympic.org twice a month, bringing you some of the top Paralympic athletes of the past and seeing where they are now. For the first part of the series, we caught up with six-time US Paralympic sit-skier Bob Balk.
USA's Bob Balk ripped down the last, and steepest, slope on the 5km loop.
He picked up speed, quicker than he imagined.
As he neared the bottom of the hill, he saw a sharp corner.
Balk veered to the right, hanging on – barely – to save himself from wiping out in his first Paralympic Winter Games.
Balk did not win a medal. But that did not stop him from remembering what made Lillehammer 1994 "perfect."
"Norway is like the birthplace of cross country skiing," Balk said. "They know everything there is in making ski tracks perfect — and they were perfect."
A four-time Winter Paralympian, Balk went on to win a pair of silver medals (10km sitting and relay) in Salt Lake 2002 and a bronze (10km sitting) in Nagano 1998. But to him, neither matched what Lillehammer had to offer.
From the degree in the turns to the length of the loops in a 10km race, a lot must be considered when designing a course for para-Nordic skiers.
Lillehammer, to him, was spot on.
All he had to do was race.
"First of all, you need the right snow, and they have really good snow in Lillehammer," Balk said. "But you also lay out your course so that your course is conducive to the event. So for sit-ski, we cannot ski on the able-bodied courses because the level of difficulty is too great."
"In Lillehammer, it was very conducive to racing a sit-ski," he said. "So I was able to put everything I could into the course. Because if the course profile is wrong, if it is too steep a climb or declines or turns, it makes you struggle in a sit-ski. And you have to really work to make a turn, or really work to go up a hill, and you have to be really careful coming down the hill."
With the Paralympic Movement growing, future hosts have an opportunity to leave an impression on the athletes, just how Lillehammer did for Balk.
Balk was one of the 471 athletes competing in Lillehammer 1994; thirty-one countries participated then.
Twenty years later, Sochi 2014 saw 547 athletes from 45 countries.
But it is not necessarily the numbers of participants that showcases the Movement's growth.
Rather, it is the athletic prowess and improved equipment for para-athletes that ups the competitive air.
"I know right now, if I got out and raced, I would be in the back of the pack," Balk said. "The guys and women now are training really hard. They have better coaching, better equipment design, a there have been some rule changes [to suit para-athletes]."
On the US side, Balk said he has seen more standardisations on the ski-binding mounts, allowing athletes to use various skis corresponding to the course conditions. Now, national teams can bring 30 to 40 skis to competitions to share among the athletes.
"If you can get the right skis for the right conditions, it makes a big difference," Balk said. "I know there were a lot of races where I felt I do not have the right skis. … If you are not sliding on the most slippery thing you can slide on, you are going slower than everyone else. No matter how fit you are."
Being an athlete in the Movement's early stages, Balk wanted to help other athletes entering.
Following his retirement after Torino 2006, he chaired the International Paralympic Committee's (IPC) Athletes Council from 2009-2013, helping give the athletes a voice in the organisation's decision-making. Currently, he is working to develop a career programme to help athletes transition from sport to professional careers.
"I have always been interested in giving back to the Movement and have done so through [those]," he said.
The sport itself is still going strong under the stewardship of IPC Nordic Skiing, recently experiencing its most successful World Championships in Cable, USA, following on from Sochi 2014.