Peters' stunning downhill gold could be just the start
23.05.2015
New Zealand's new downhill and super-G world champion aims to become competitive in all disciplines after proving he is "not afraid of speed."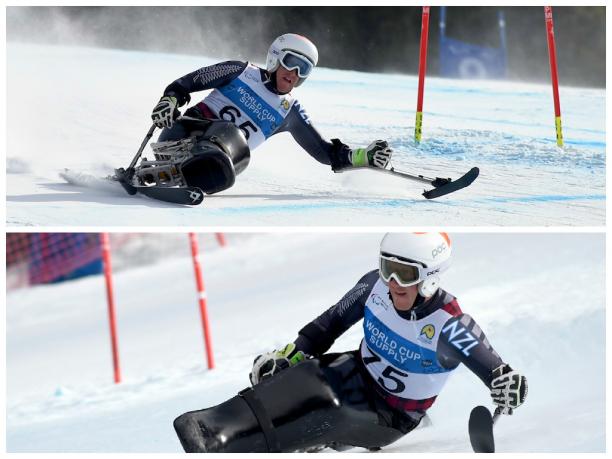 New Zealand sit-skier Corey Peters competes at the 2015 IPC Alpine Skiing World Championships, Panorama, Canada.
© • Alpine Peak Photography
By Jake Duhaime | For the IPC
"Now all of the resorts have adaptive skiing programmes in place to help further grow the sport."
New Zealand sit-skier Corey Peters is enjoying a new wave of confidence across all disciplines which he hopes to carry into 2015-16, after winning downhill and super-G gold at the 2015 IPC Alpine Skiing World Championships.
Peters, 31, who won his country's first downhill world title in Panorama, Canada, in March, managed the feat despite there being limited places for him to train in speed events in New Zealand.
"I don't know how that happened to be honest," said Peters. "The first couple of years learning how to ski downhill was definitely a steep learning curve, but since Sochi, things have clicked and come together. I'm more confident in those high-speed events."
Peters, who won silver in giant slalom at Sochi 2014, credits a schedule that sends him halfway across the world for months at a time. Prior to last year's World Championships, Peters skied Panorama at an IPC Alpine Skiing World Cup in 2014. He also spent much of the build-up for the Worlds skiing in North America, including several NorAm Cup events in the Rocky Mountains.
"Our goal wasn't just focused on the downhill but to help Corey become an athlete that hopefully becomes competitive in all disciplines," said his coach Ben Adams. "Corey showed from the start that he was not afraid of speed."
Peters barely cracked the top 10 during the 2013 IPC Alpine Skiing World Championships, but put his competitors on notice at Sochi, following that up with an incredible performance at Panorama 2015.
Now with an eye on 2015-16, Peters will take advantage of more time and events on the Southern Hemisphere's snow.
One of those events, the Audi quattro Winter Games NZ, is a national sports showcase combining para-alpine events with able bodied freestyle, half-pipe and slopestyle skiing and snowboarding. The IPC Alpine Skiing Southern Hemisphere Cup will be held as part of that event between 24-25 August.
"People who have never seen adaptive skiing before will watch that event and start to embrace it," Peters said. "Now all of the resorts have adaptive skiing programmes in place to help further grow the sport."
While Peters credits a silver medal in Sochi as a confidence builder, his goal for next season is to embrace life at the top. A tactical perfectionist, he has spent part of his off-season studying sports psychology. Though even he will admit that having a little bit of luck is never a bad thing, especially in a sport where a tenth of a second can make the difference between first and second.
"I know I'm cemented as one of the best in the world and that gives me the confidence knowing that I've done it. But there are a lot of different elements that need to come together on any given day," Peters said. "Anyone in the top 15 can win a race on a given day. So you've got to keep pushing yourself."
Adams, just one member of New Zealand's snow-sports support programme that also includes Jane Stevens, Erik Peterson, Kurt Smitz, Scott Olson, Shane Crowhen and Pete Sanford, has a long-term view of Peters' very bright future as a defending world champion.
"We are currently entering the second year of the plan we've had in place since Sochi," he said. "We are working on technical and tactical improvements to continually strive to be at the top. I believe that Corey will continue to develop over the next couple of years."
The fourth biennial Audi quattro Winter Games NZ 2015 take place from 21-30 August in Queenstown, Lake Wanaka and Naseby. All sports and festival events are free to watch for spectators (ski pass required to access lifts) and will be shown free to air on TV3 with live streaming on the website.