Southern African NPCs Agree to Propel the Paralympic Movement Forward
13.10.2011
Memorandum of Understanding Signed at IPC Regional Training Camp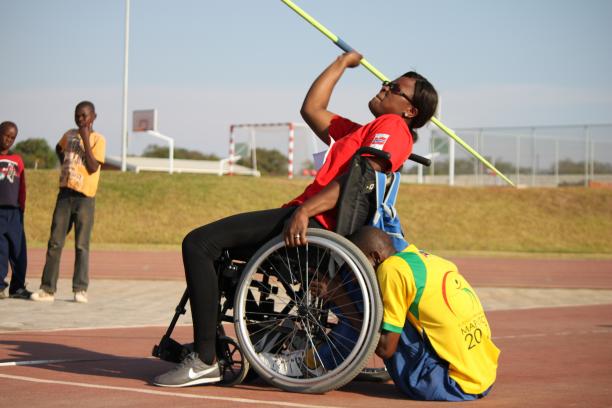 Athlete training at javelin during the IPC development camp in Zambia.
© • IPC
By IPC
The National Paralympic Committees (NPCs) of Zambia, Lesotho, Namibia, Botswana and Zimbabwe signed a Memorandum of Understanding at the International Paralympic Committee (IPC) Regional Training Camp in Lusaka, Zambia which aims to strengthen the Paralympic Movement in Southern Africa.
The IPC camp, which ran from 3-8 October, brought together almost 50 athletes, coaches and administrators from the five NPCs to share knowledge and ideas.
Sponsored by the Norwegian Olympic and Paralympic Committee and Confederation of Sports (NIF) and Charity and Sport, delegates had the opportunity to attend a series of workshops and sports training sessions.
The NPCs used the opportunity to sign the Memorandum of Understanding for South to South Cooperation, which covers training, competitions, awareness raising and government lobbying.
They agreed to co-operate by exchanging training programmes for leadership, coaches and classifiers. In addition they will exchange competition programmes in Athletics, Powerlifting, Wheelchair Basketball, Goalball, Sitting Volleyball and Swimming.
In the memorandum, the NPCs also committed to "promote independent living among the disabled through entrepreneurship skills development; share relevant information on the development of sports for the disabled; and embark on awareness campaigns of sport for persons with disabilities in rural areas."
A key aspect of the memorandum was also to jointly exert pressure on their respective governments to provide financial support and tax relief, make all sports venues accessible to persons with a disability and increase influence and recognition for Paralympic Sport at government level.
"The five National Paralympic Committees also agreed to urge their governments to include members of the National Paralympic Committees in all government sports-related committees and international conferences" and "employ full-time employees with knowledge of disability sports in the Directorate of Sport," the agreement read.