Samba, cinema wrap up one-year to Rio 2016 party
08.09.2015
Adults and kids enjoy festival alongside Lagoa Rodrigo de Freitas in Rio.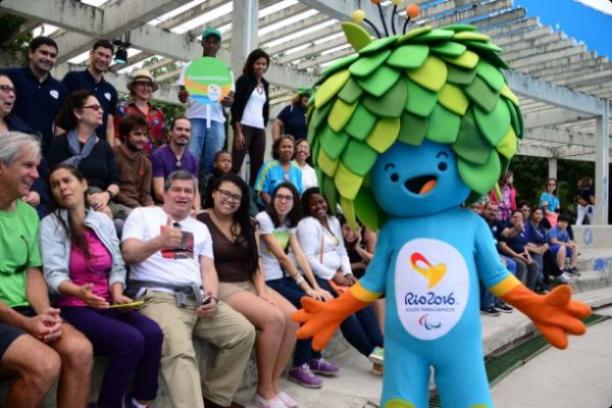 Rio 2016 Paralympic Games mascot Tom warmed up the crowd at the Paralympic Festival.
© • Rio 2016/Mathilde Molla
By Rio 2016
The rhythm from the samba school Embaixadores da Alegria turned Parque dos Patins, in Rio de Janiero, Brazil, into an impromptu block party on Monday (7 September), when the city celebrated one year until the Rio 2016 Paralympics.
The lingering threat of rain did not keep the public away from the Celebra Cultural Arena, where a giant screen showed inspirational films throughout the day. Among the documentaries was a short film about visually impaired Brazilian judoka Antonio Tenorio, who won four Paralympic golds, one each in the 1996, 2000, 2004 and 2008.
"I was fascinated by the films because their stories had great impact, they were very powerful," said Marina Salomon, who attended the festival with her children. "My kids wanted to do everything. They tried wheelchair basketball and sitting volleyball. They were very curious and asked lots of questions when we watched the 5-a-side football match played by the blind players. Now they are running after those giant balls and don't want to go home."
Swimmer Daniel Dias, the most decorated Brazilian Paralympian, talked with fans at the Ottobock Arena, sponsored by the official wheelchair and prosthetic supplier for the Rio 2016 Games.
"To have a dance group full of people with and without a disability is perfect," he said. "All of life should be like this, because I believe we are all equals. Having a disability is not something that defines who I am. It is a characteristic I have."
The festival also featured some top-level sporting encounters, including a race to define the fastest para-athletes in the world and a football match between Brazil and Argentina's visually-impaired teams.
Tickets for Rio 2016 Paralympic Games are now on sale to residents of Brazil. Overseas fans, meanwhile, should contact the authorised ticket resellers (ATRs) in their territories.