Rio mayor joins in on sports demonstration in Future Arena
09.09.2015
The mayor, Brazilian goalball team and Rio 2016 mascot Tom showcased their athletic abilities at the new venue in Barra Olympic Park.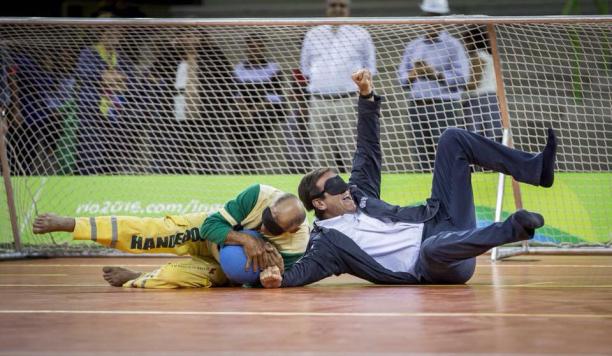 Rio mayor Eduardo Paes tried goalball at the Rio 2016 goalball venue in Barra Olympic Park
© • Rio 2016
By Rio 2016
"When I first got here, I had goose bumps."
The Paralympic Games may still about a year away, but Barra Olympic Park – the heart of the Rio 2016 Games – gave a taste of what is to come on Monday (8 September), when members of the Brazilian goalball team played an exhibition match at the Future Arena.
Rio mayor Eduardo Paes had a go at the sport for visually impaired athletes, taking on the Paralympic mascot Tom, who had the clear advantage with his big orange hands. Watching the display were members of the media; Olympic Park construction workers; International Paralympic Committee (IPC) President Sir Philip Craven; IPC Vice President and Brazilian Paralympic Committee (CPB) President Andrew Parsons; and Rio 2016 Organising Committee President Carlos Arthur Nuzman.
The Brazilian goalball team – world champions and winners of this year's Parapan American Games in Toronto, Canada – gave a brief demonstration of how the professionals play, while a presenter explained the rules of the game to the assembled crowd.
"When I first got here, I had goose bumps," said Leomon Silva of the Brazilian team. "Imagine in 2016, this arena filled with 12,000 hearts beating for us. Everyone knows that Brazilians are very emotional, full of positive vibes. It is very exciting."
Sir Philip was feeling the vibes too: "This is a fantastic arena, but it is made of steel and concrete. Until the moment that people walk in here and use the arena, you cannot really feel the passion. But we felt it this morning. We saw the world champions play and we also saw some new enthusiasts [including construction workers], who walked into the arena with eyeshades on to play goalball."
With the court and grandstands now complete, the Future Arena is on track to be officially unveiled by the end of 2015, with a capacity of 12,000. It is one of nine competition venues within Barra Olympic Park, and will host handball matches during the Olympic Games and goalball during the Paralympic Games.
An innovative design using nomadic architecture, the arena will be dismantled after the Games and transformed into four public schools, each large enough for 500 students.
For more about the Rio 2016 Paralympic Games venues, visit Rio 2016's website.