Malawi exceed expectations with junior Championships
05.10.2015
The National Paralympic Committee smashed their target to attract young athletes as they look ahead to Tokyo 2020.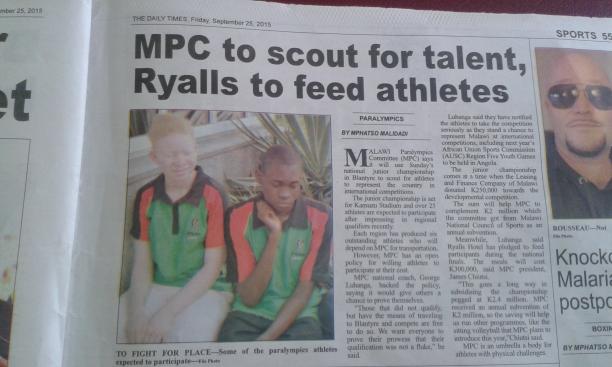 The first National Junior Para-Athletics Championships were held in Malawi, attracting new Paralympic hopefuls.
© • Agitos
By Agitos
The development of para-sport in Malawi took a huge step forward recently, with the hosting of the first National Junior Para-Athletics Championships at the Kamuzu stadium in Blantyre on 27 September.
The National Paralympic Committee (NPC) has committed itself to a new outlook – dubbed the 'Winning Strategy' – which is the first stage of their plans to grow the numbers of athletes by the Tokyo 2020 Paralympic Games.
The NPC had originally hoped to attract 18 young hopefuls, but on the day 25 arrived to compete.
"We even doubted whether the athletes would come, but they surprised us because they came in large numbers," James Chiutsi, President of the Malawi NPC, told national media. "It is a positive development on our part."
The NPC has been receiving support through the development arm of the International Paralympic Committee, the Agitos Foundation.
They have been involved in the Organisational Capacity Programme (OCP), which aims to help NPCs grow by offering training in key areas such as athlete development, branding, administration, Games preparation, fundraising and stakeholder relationships.
In Malawi, help has also been given by the OCPs programme lead from the Zimbabwe NPC, Mercia Takavarasha as well as the Norges idrettsforbund (NIF).
In addition to exceeding the number of athletes expected to compete at the national Championships, the NPC also secured the support of Ryalls Hotel and the Leasing and Finance Company to deliver the event. That added to the annual contribution made by the National Council of Sports for general operations of the NPC.
Developing these kind of relationships is important for the future of para-sport in Malawi, as it enhances the contributions made by the government for the running of the NPC and helps to raise awareness of the Paralympic Movement.
Having held a workshop in August ahead of the Championships to cement 'Winning Strategy', the NPC is now seeking national and international partners who can help them to run more regular grass-roots para-sport events.